Let's Go Outside
Our guide to choosing outdoor furniture for bars, hotels and restaurants

Demand for outside spaces has remained high over recent years, and operators are finding the investment in quality furniture has paid off, with the additional seating in use for much of the year.
Whether you're creating a new garden or terrace, or updating an existing space, our range of outdoor furniture has something to suit all commercial and residential projects and if time is tight we can work quickly to get everything on site and ready for the summer.
There's lots of new options this year, from bar stools and lounge chairs to sofas, tables and stackable seating for maximum flexibility. Suitable for lounging by the pool, dining on the terrace or sipping cocktails in the sunshine, our range includes weatherproof fabrics and finishes to suit every project.
The first element to consider when choosing outdoor furniture is to think about how it will be used. Many restaurants now have outside terraces and a country pub isn't complete without a beer garden to enjoy food and drinks al fresco. If guests will be sitting outside to eat, it's important to choose a chair that's at the right height and that will be comfortable to sit on throughout their meal.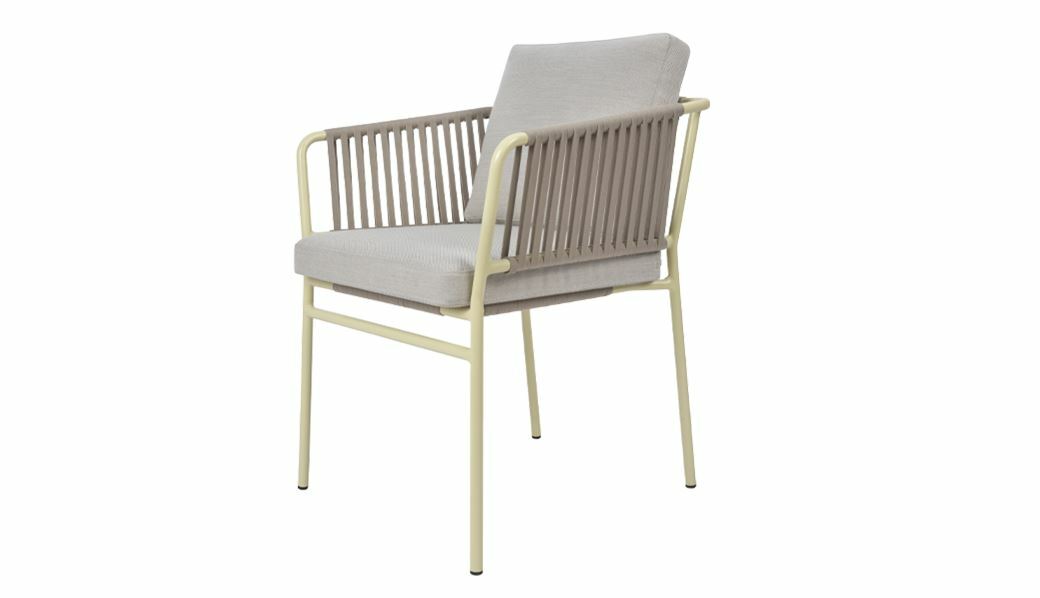 The Capri Armchair is a great choice for outdoor dining - the powder-coated aluminium frame is wrapped with a woven rope detailing available in black, tan or khaki and the upholstered back and seat cushion make this an incredibly comfortable option.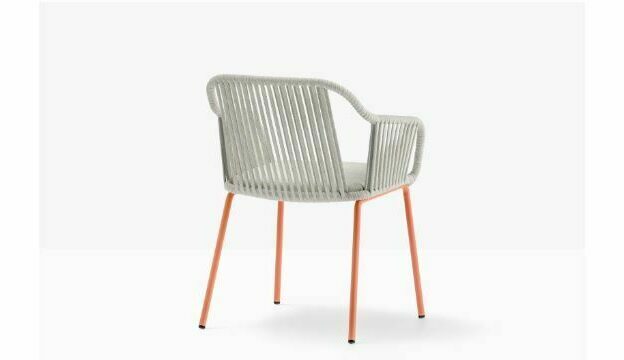 The Babila Twist also features a woven body, which looks great, is supportive and very comfortable. We love the option to specify legs in a contrasting colour - the pop of orange works so well with the understated grey in this version.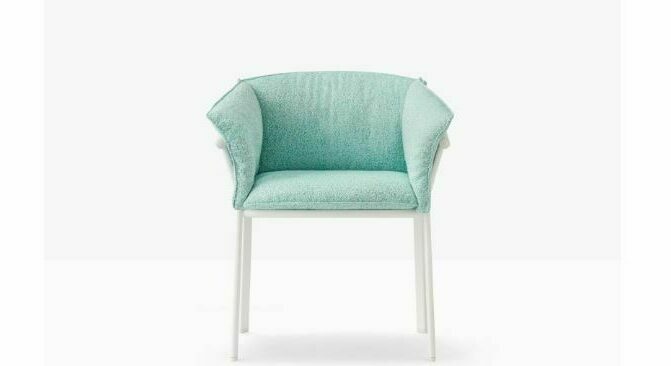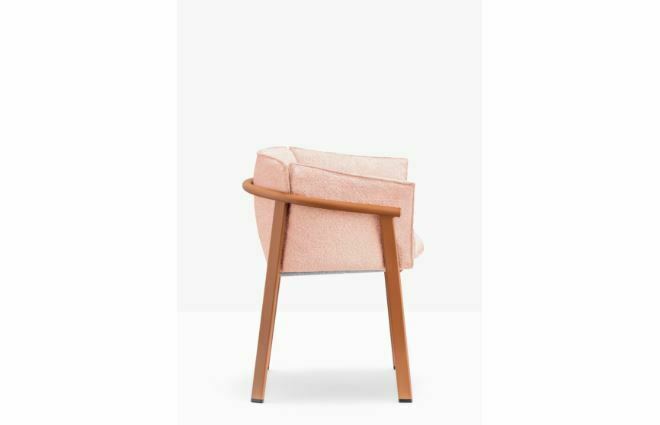 Lamorisse is a brand new armchair designed specifically for outdoor use. Its aluminium frame makes it ideal for a terrace, garden or patio, and its design makes it a striking choice for any contemporary hospitality setting. We love the large and enveloping cushion in polyurethane foam - suitable to use outside and super-comfortable for long summer lunches or evening get-togethers. The seat is supported by elastic belts to add extra comfort and strength and it's available in a wide range of colours and finishes.
Classic wooden armchairs are always in style, and when paired with a neutral cushion and seat pad, work perfectly in any setting. The Venus XL armchair features a curved beech frame with woven back and makes an elegant choice for a hotel garden, outside terrace or conservatory.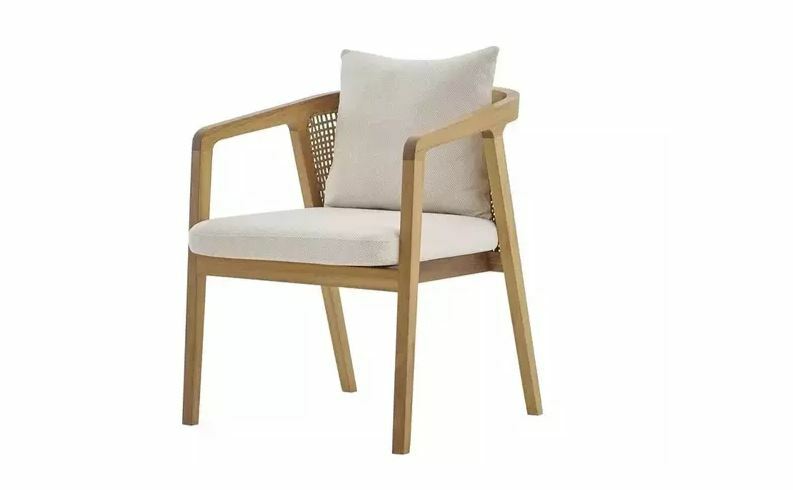 For something simple and slick, Sisi is a great choice for any commercial site - available as a side chair or armchair, there are four different design variants to choose from, all stackable and suitable for outside use. Whether you opt for wood slats, a dotted or plain seat back, it's a stylish chair that sits perfectly in any restaurant, café or bar. You'll find it at Patisserie Valerie in Rushden Lakes - a welcome spot for a lakeside seat after a busy day at the shops!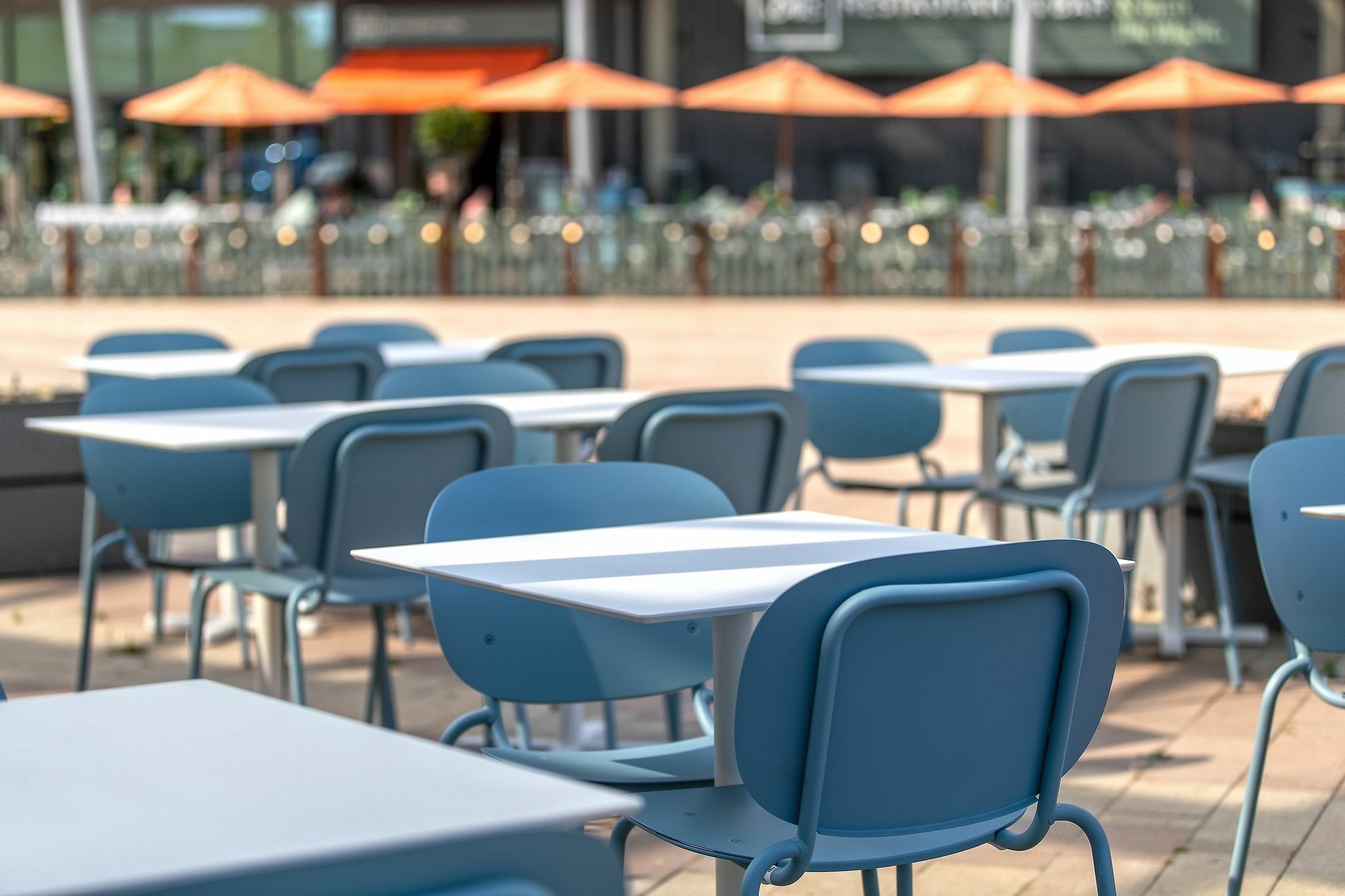 The Souvenir reinterprets the classic green chairs of the Jardin des Tuileries or the Jardin du Luxembourg in Paris. An armchair made from polypropylene designed specifically for outdoor use, it stands out for its organic form, soft lines and shaped slats. It's a classic with a twist, and a great choice for an outside bar or restaurant this summer.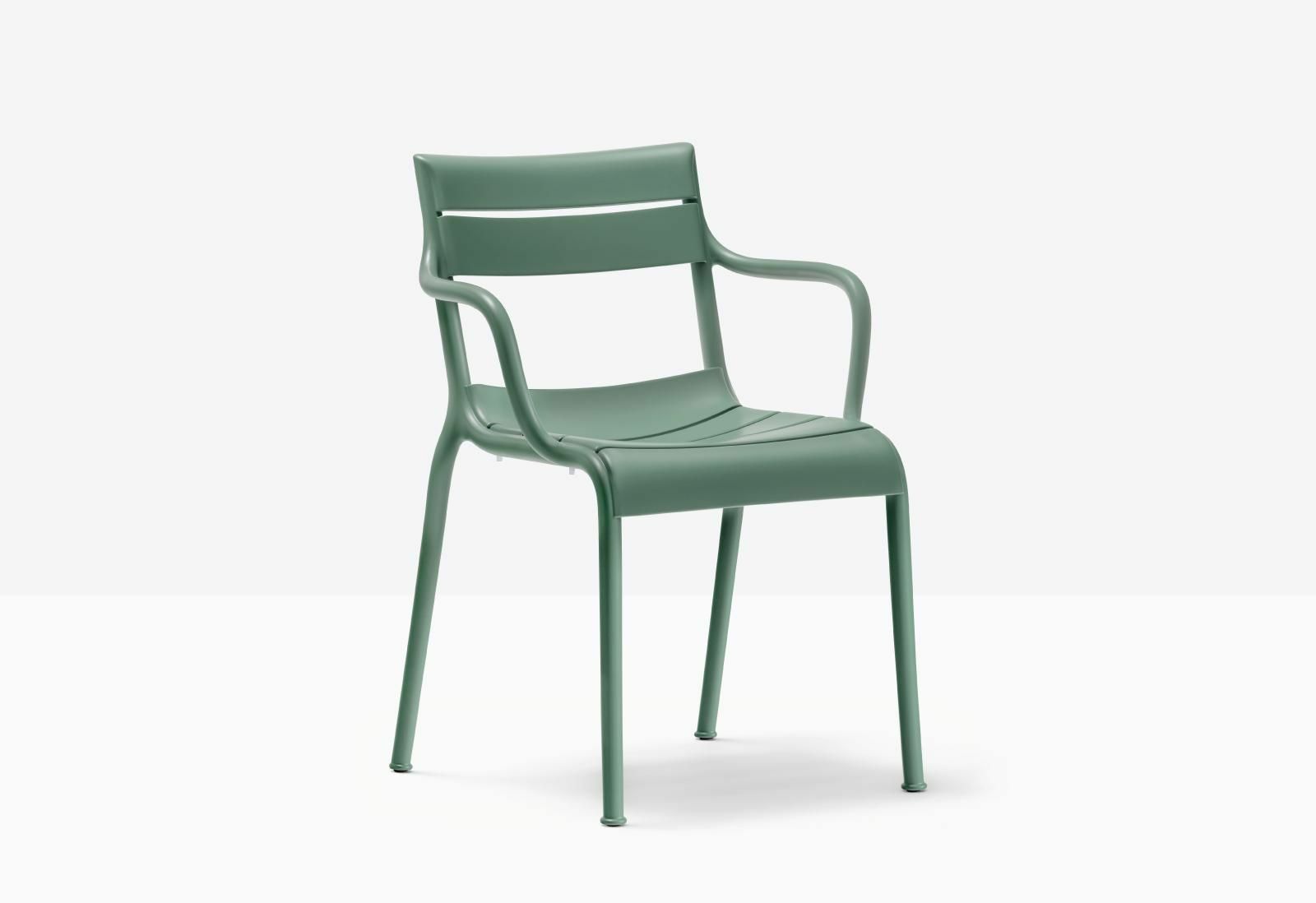 Including sofas in your outdoor space lends a stylish, upscale feel to any venue. A sofa upholstered in a funky fabric or with a sleek silhouette makes a statement and encourages your guests to relax. Choose an outdoor sofa with a solid timber frame, such as the Capri sofa or opt for the new Arki modular sofa, which can be configured in a range of combinations to suit your space.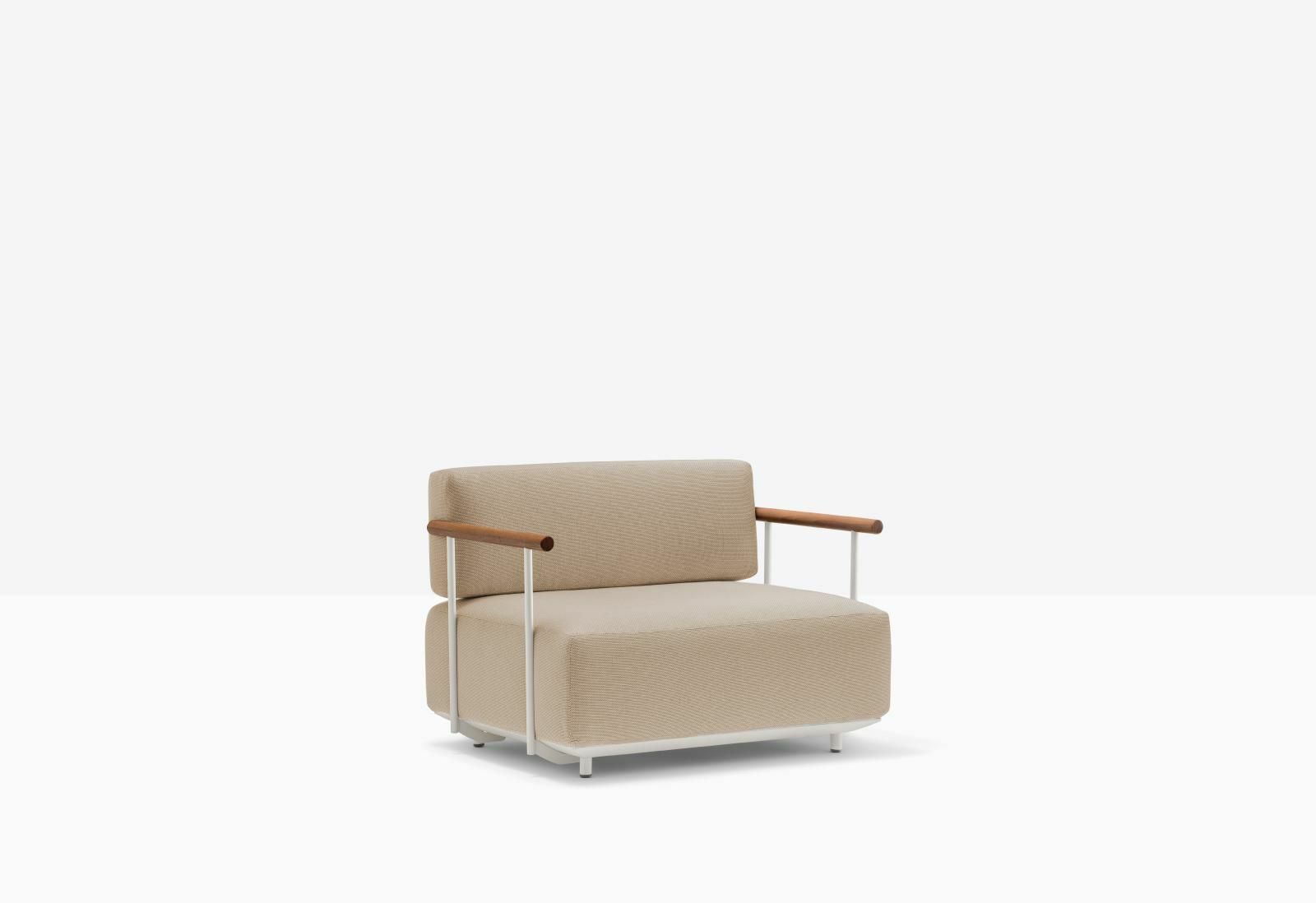 Or go for an outdoor sofa in super-practical polyethylene - the smooth, moulded silhouette of the Plus Air collection works really well in a fun, contemporary setting and is perfect for an outdoor bar area or café. Choose an armchair or two seat sofa, both with the same generous proportions and curved lines. Add an optional upholstered pad for extra comfort and take your pick from a range of colours.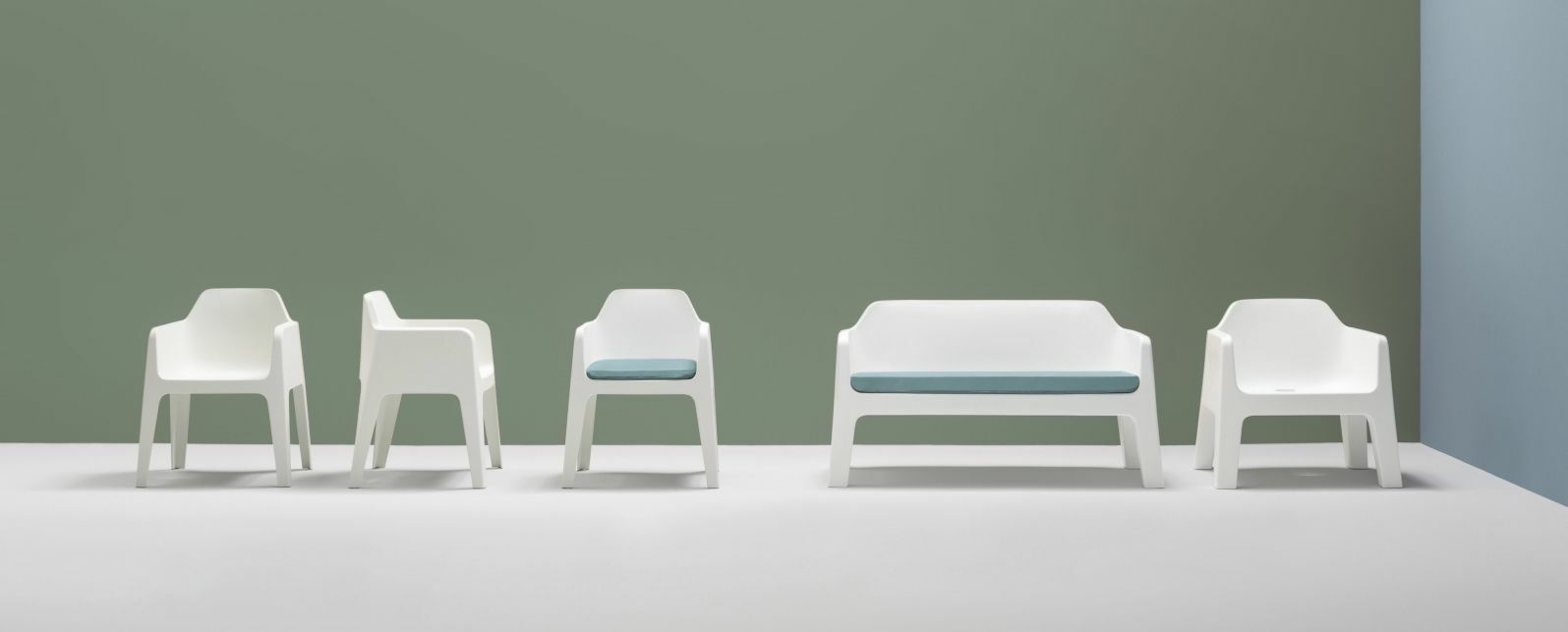 Bar stools are as popular outdoors as they are inside bars, hotels, cafés and restaurants, and our new collection includes a wide range of shapes and sizes, finishes and fabrics.
The Nolita collection is one of our most popular, with the powder-coated steel frame available in a choice of 13 colours from classic black or white through to sea green, sky blue and this punchy orange.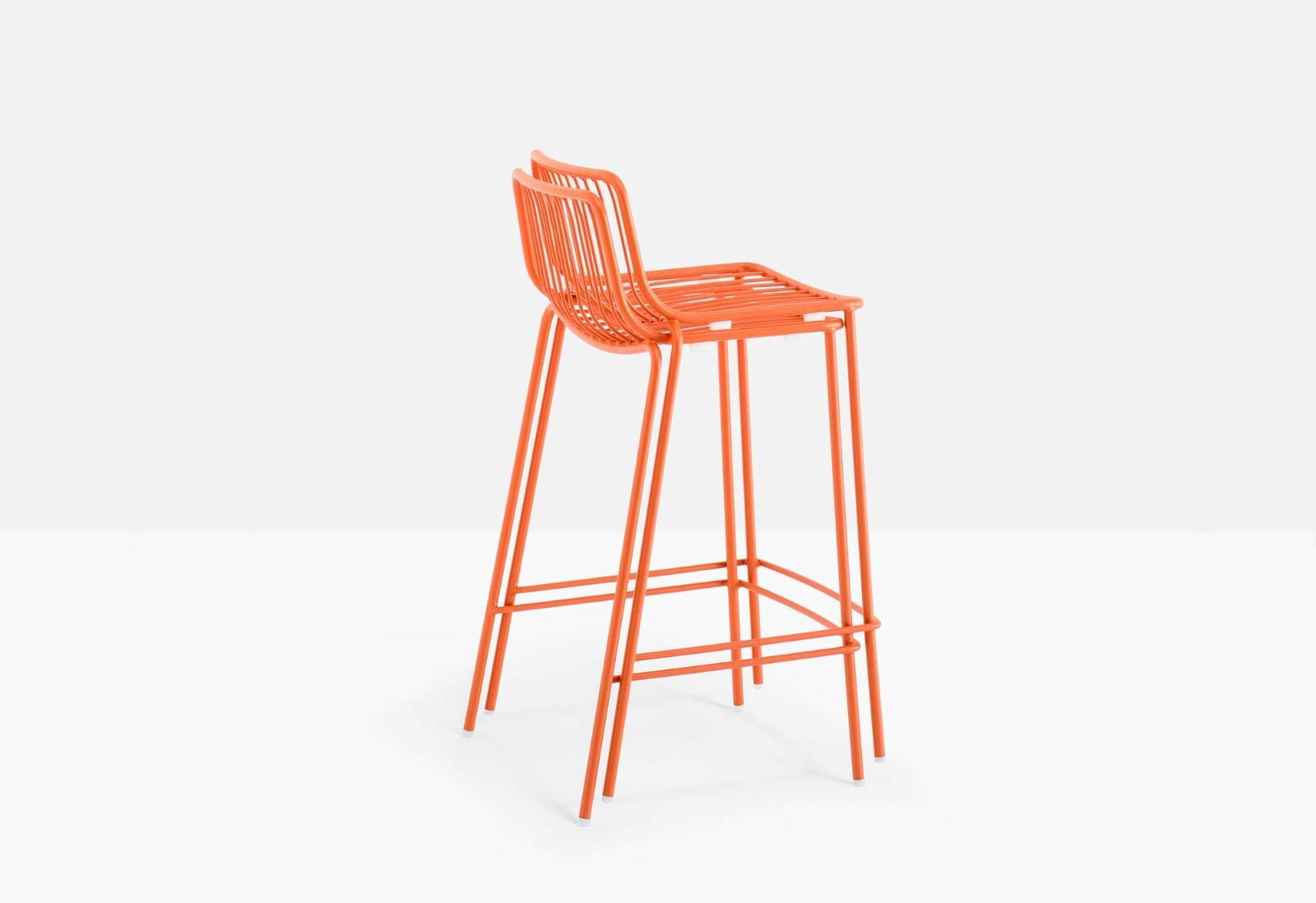 The Trampoliere bar stool is another great choice - perfect for a relaxed outside bar or café and available in a choice of 22 colours. It's stackable and light enough to move around easily, so works well for venues where seating needs to be added or removed. We love the clean lines and geometric styling of this pared-back piece, but there's also an option to add a removable cushion, upholstered in your choice of fabric, leather or faux leather. The bar stool is part of a family of furniture suitable for outdoor use, including a side chair, armchair and tables.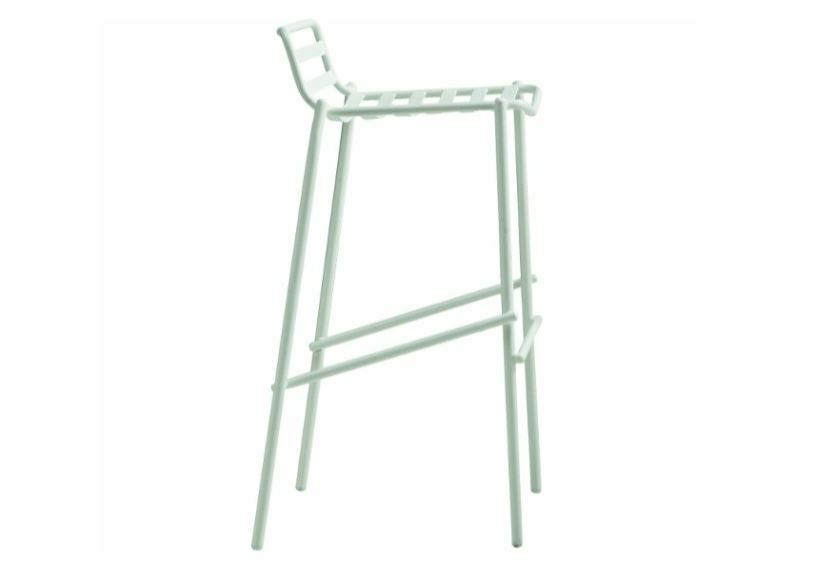 The Trick bar stool is a great choice for a relaxed outdoor space - with its swooping curves and sleek lines, this powder-coated metal stool is happy indoors, outdoors and in hybrid spaces - it's sure to be a go-to seat this summer.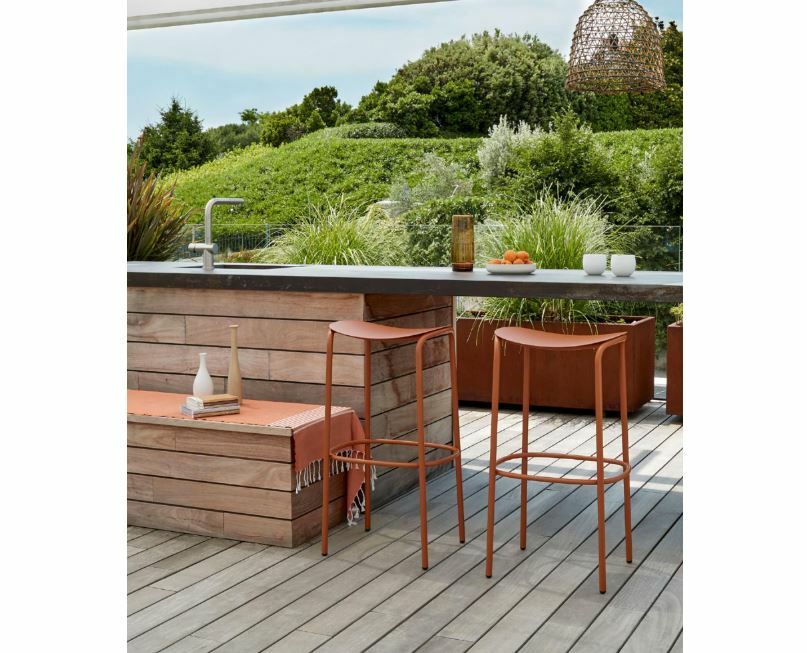 To keep up to date with our latest collection and new additions to our outdoor furniture range, join our mailing list and look out for our regular email newsletters, or follow us on Instagram.

---