Mamucium Restaurant & Cafe, Hotel Indigo
A collection of projects in the heart of Manchester.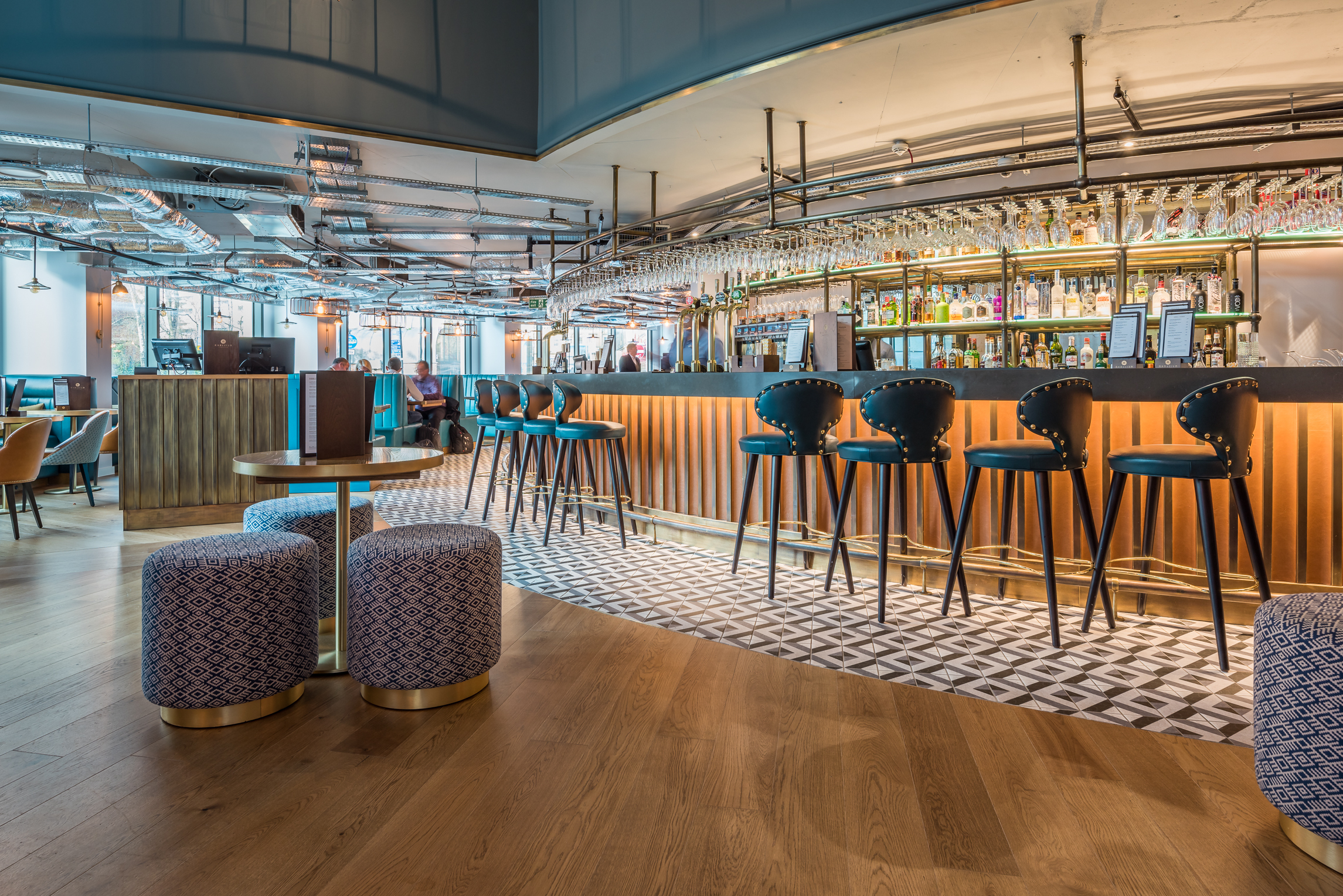 M Café
Scandinavian chic seating for a Manchester city centre café

The M Café at the Hotel Indigo is the perfect spot for a quick bite or meeting, so comfort was a key aspect when choosing the furniture.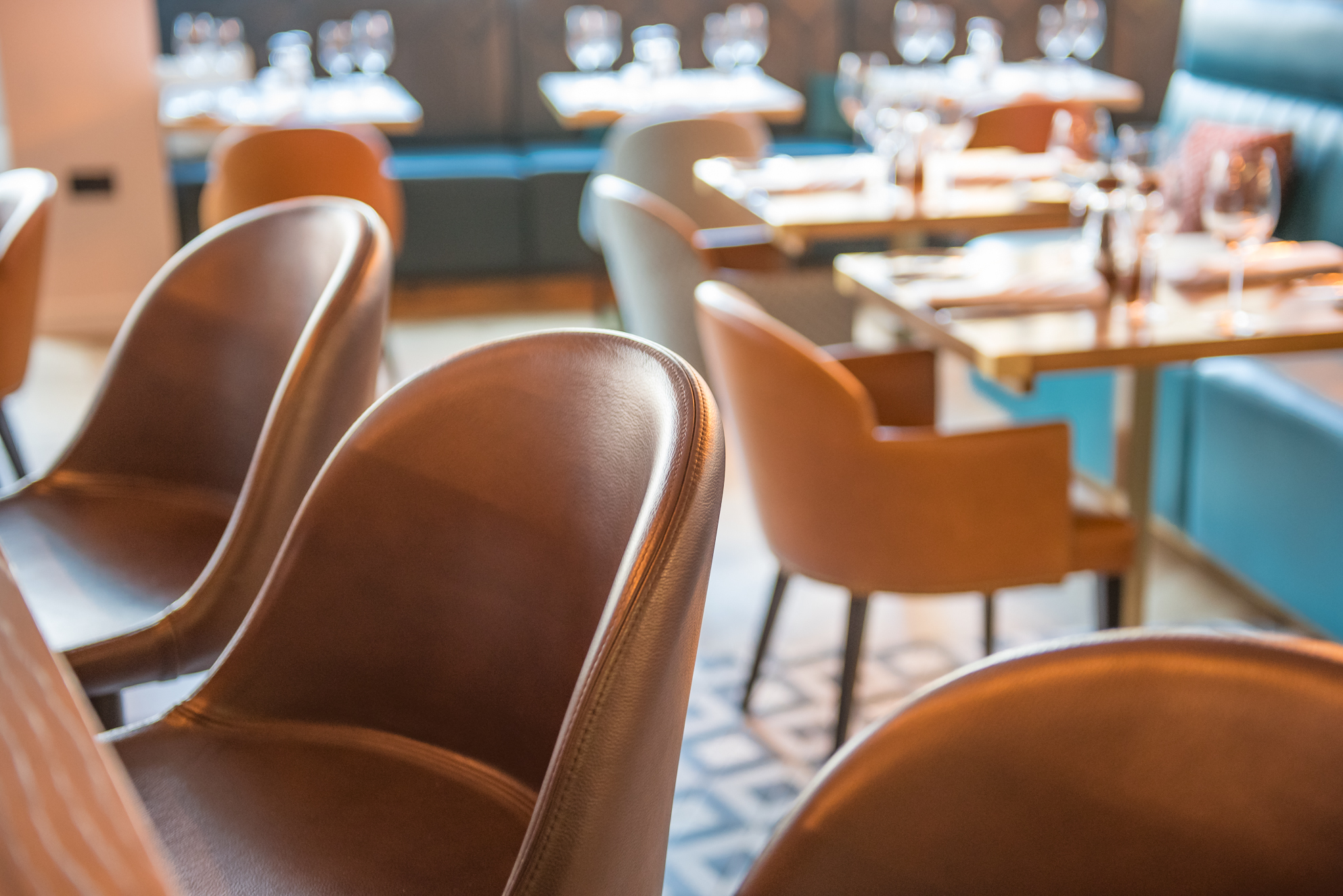 Our Joe side chairs are ideal for a busy hospitality environment with a Scandinavian style that works well in a range of interiors. The 40mm thick solid ash table tops stand on black powder coated Inox bases, and we also supplied Zinc tables with stud detailing. They bring a bit of quirkiness into the interior and are a perfect contrast to the warmth of the Joe chairs and timber tables.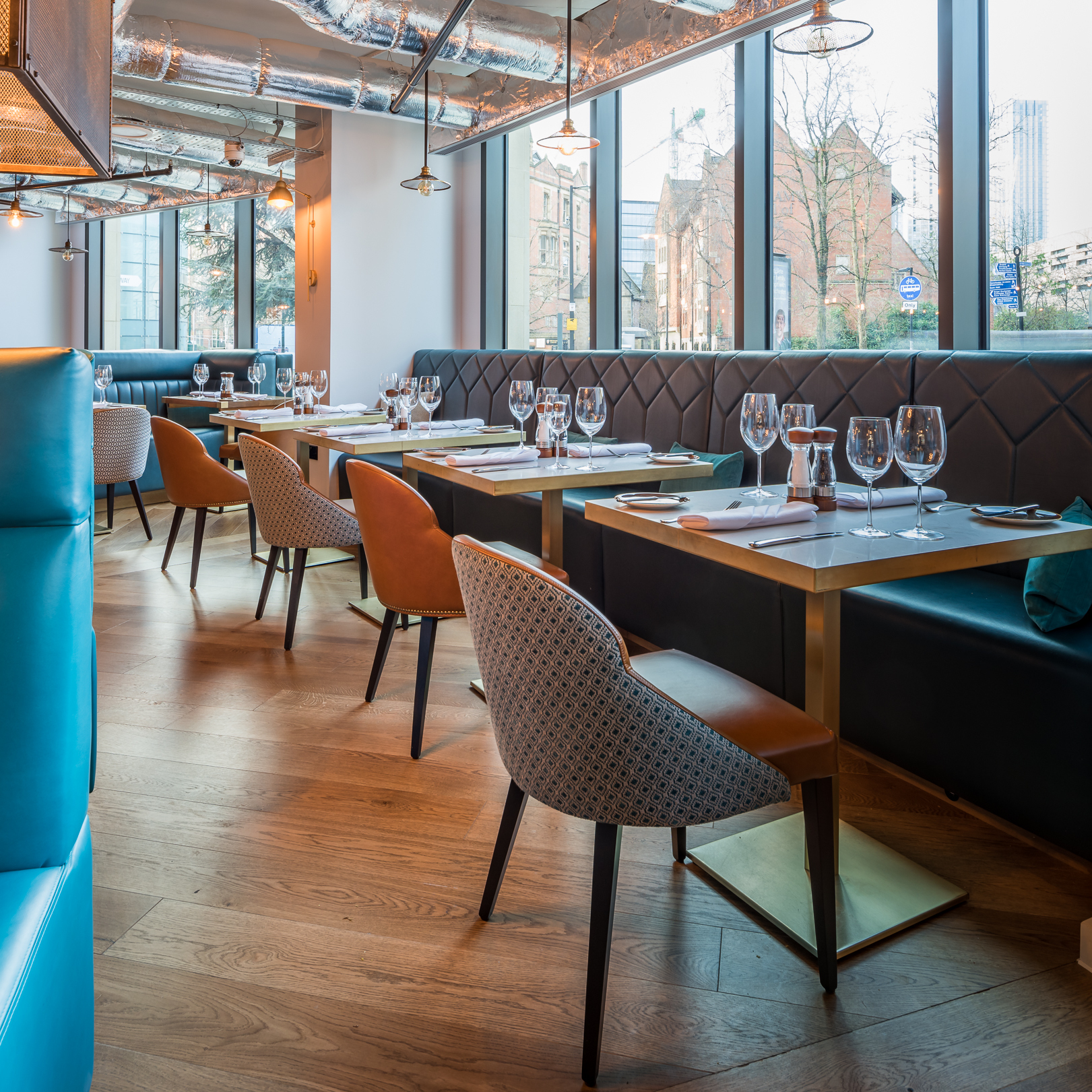 Mixing different heights works well to add interest to an interior, so our high table with Silestone top combined with the Joe bar stools to give the space another dimension. The teal upholstery picks up the colour palette used throughout Hotel Indigo, creating a seamless, unified feel.
Mamucium Restaurant and Bar
Elegant design meets industrial chic in a central Manchester restaurant
The Mamucium Restaurant at the Hotel Indigo Manchester is inspired by the city, with everything on the menu sourced locally. The same attention to detail is present in the interior design, with earthy tones and teal shades, brass and wood, leather and fabric, coming together to create a relaxed, elegant space that welcomes guests throughout the day.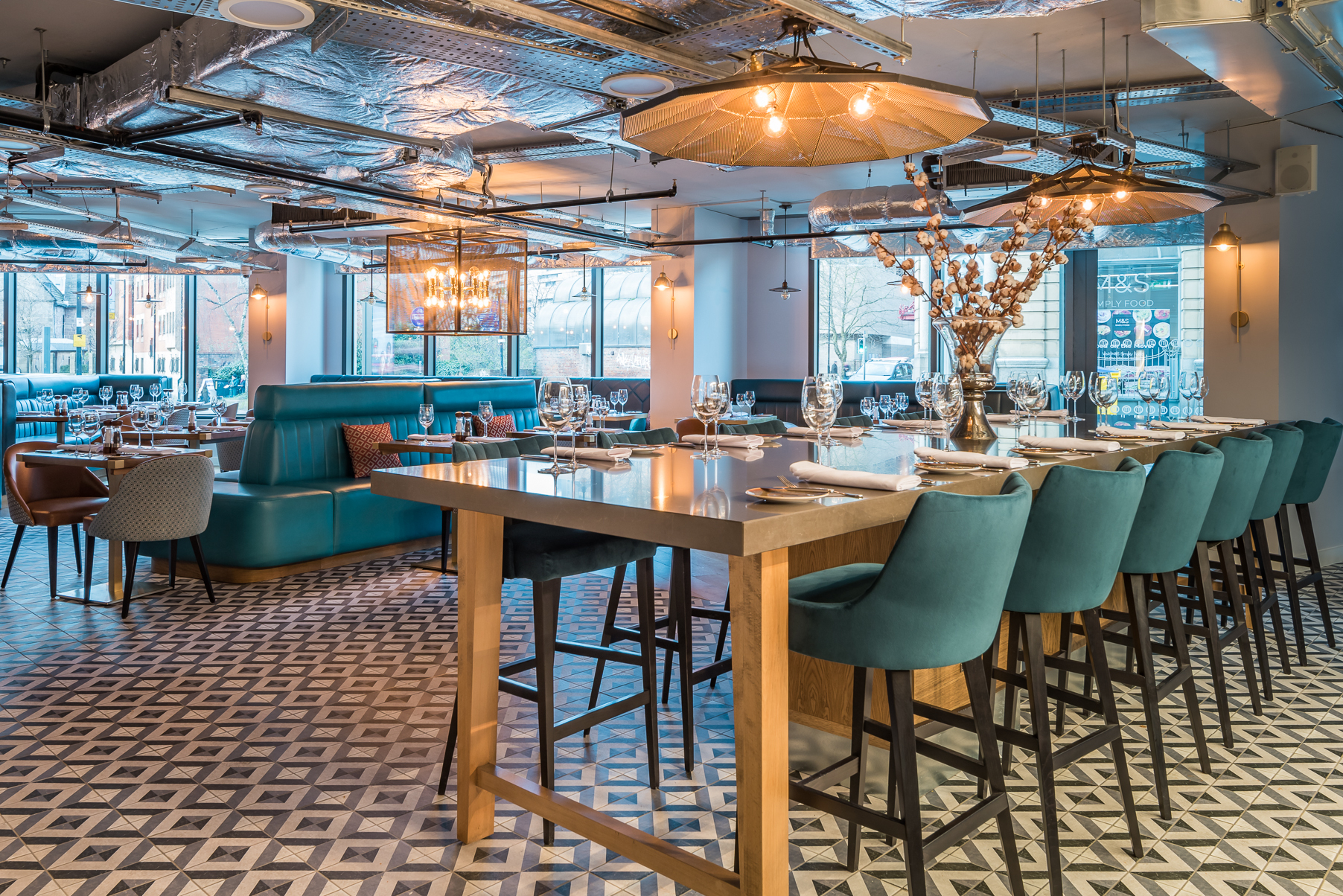 We love the use of brass as an accent throughout the restaurant - it's on trend but timeless, and works well on table edges, table bases, bar stools and poufs.

Our Elle bar stools sit beautifully against the main bar area, and the mix of deep blue green leather, dark wood and brass buttons and footrest give the stool a luxurious feel. On the other side of the room, our Louvre stools stand against a high chef's table. Upholstered in teal velvet with a beautiful fluting on the back, they bring a real elegance to the interior.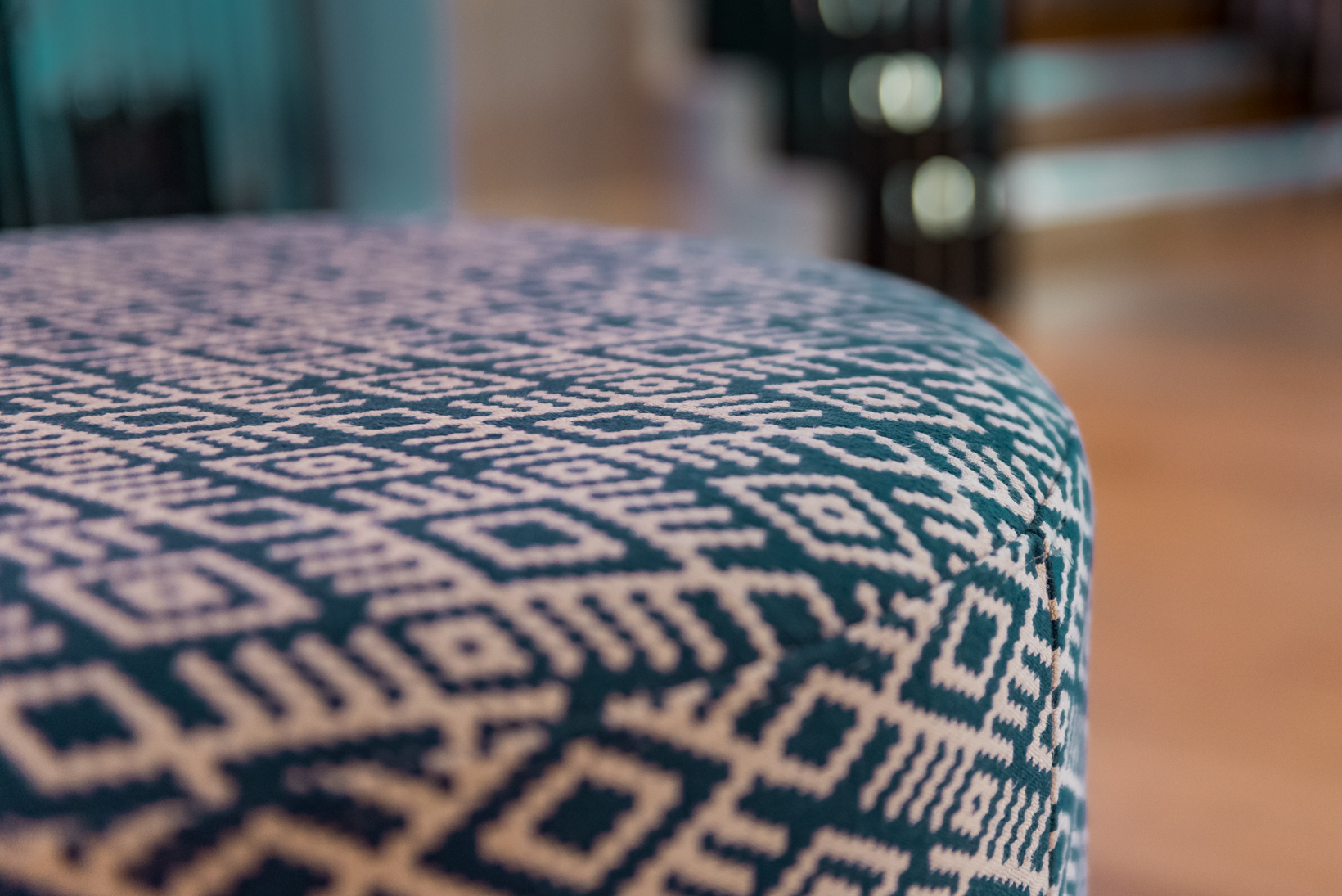 Patterned poufs work well next to the statement tiled floor. Together with our solid ash table they make a relaxed spot for a quick drink. The dining area features our Paris side and armchairs, in a variety of upholstery finishes. We especially love the split fabric/leather look and the small brass buttons on the edge of the chair. 
We also delivered square and rectangular dining tables with brass edging and corner caps, and a number of Caesarstone top tables, to keep the mix of finishes and materials and create interest in the interior. Reflecting the design of the adjoining M Café, we installed three high tables with solid ash tops and brass finish base, paired with our Sonny bar stools.