HIX Designer Profile: Bell & Swift
Glaswegian at heart - experts in interior design who understand the complexities of commercial projects.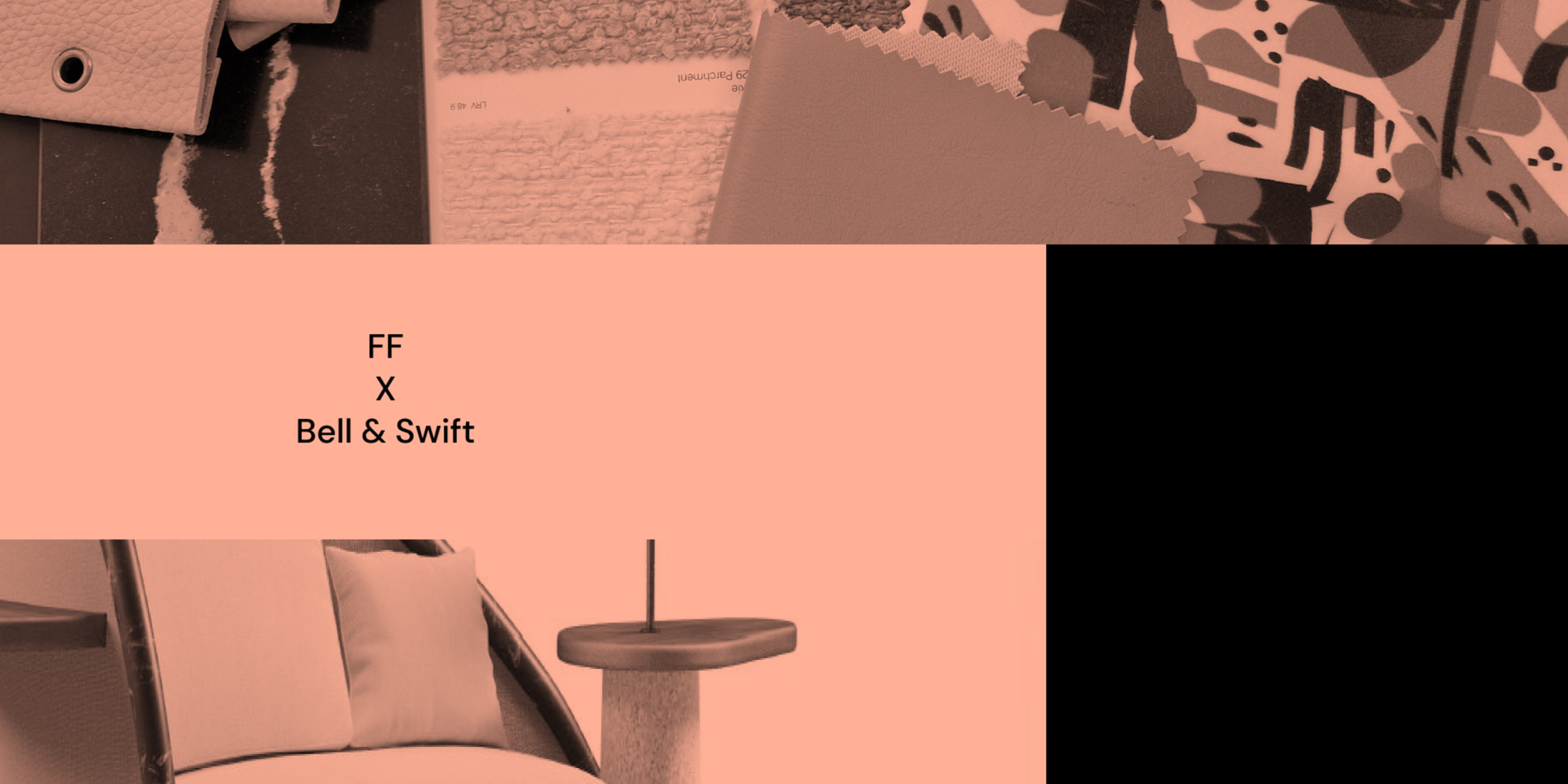 Following our experience working with Bell & Swift on projects including Edinburgh's Mount Royal and Hampton by Hilton Sheffield, we knew they'd come up with something special for our HIX2023 stand.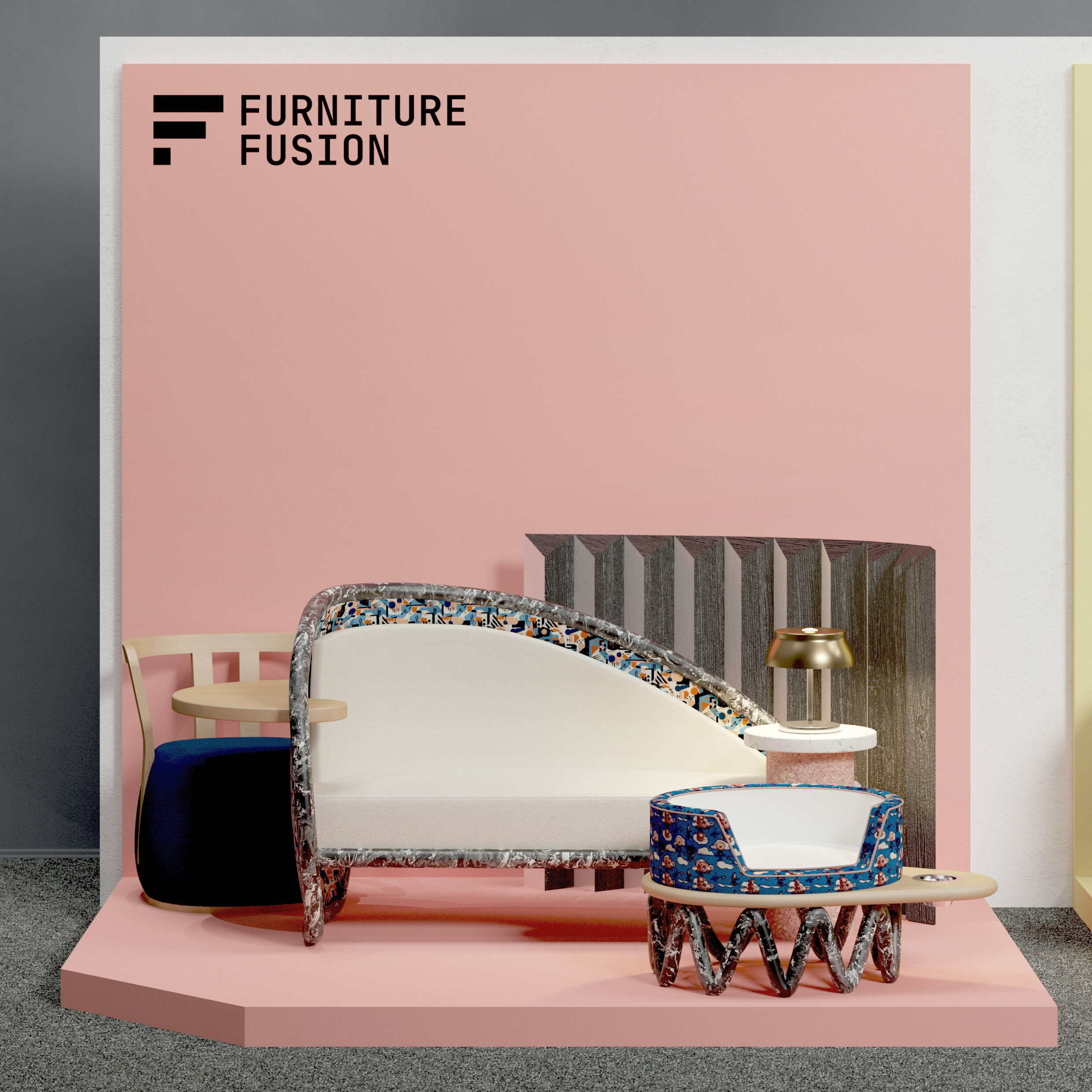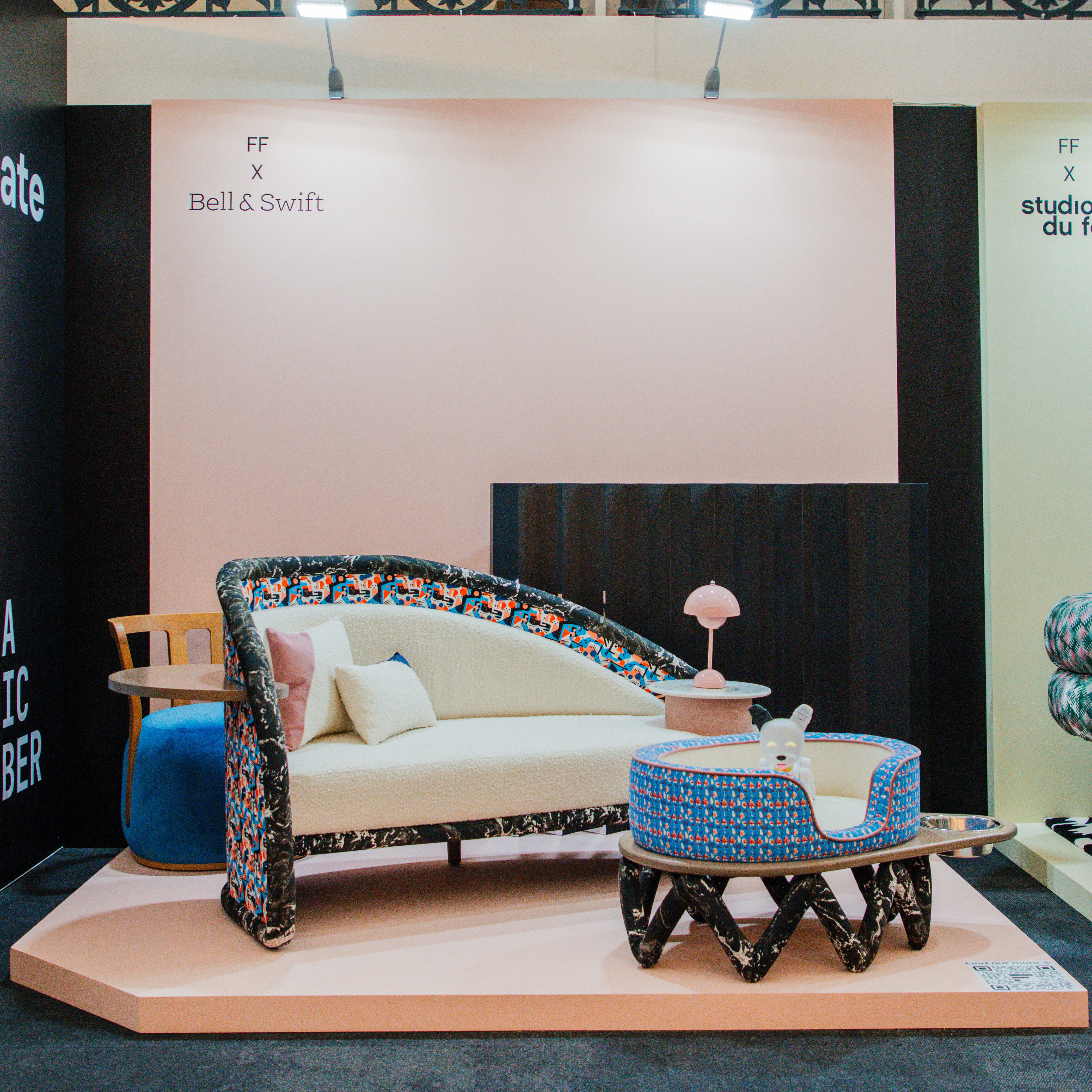 Collaboration is key to what we do - everyone has a voice.
We asked Craig Mckie, Bell & Swift's Co-founder & Creative Director and Colin Carswell, Associate Interior Designer about what create, collaborate and curate means as part of the design process.
"The only bad idea is the one that's not voiced or put out there... everyone has a voice and everyone chips in. When collaborating with suppliers we like to feel they're part of the team and coming to the table with ideas, even if it's something we don't want to hear it reins us in a bit! With that knowledge it will become a more well-rounded product."
"We'll usually have found some pieces that really embody that narrative, we'll go back and flesh things out from there. We'll look for things that either work or potentially clash a bit, but that will add some depth to the scheme."

You, me and AI: the future's bespoke
Bell & Swift found creative inspiration in one of the key themes for HIX2023: Artificial Intelligence. Conscious that there's a lot of negativity around AI and what it will mean for the industry, the team explored how they could use it as a tool and harness it for good in their design for a hotel lobby.

With a focus in our campaign theme '3 is a magic number', the Bell & Swift team brought together a recycled structure, eco-friendly materials and AI-generated fabrics to create a statement piece for the lobby which has three points of view:
Planet-friendly
People-friendly
AI-friendly
The result showcases how we work with designers to create a bespoke item - we love this collaborative approach and the involvement in the design process. It allowed us to produce items from scratch, whist working so closely with the creative teams. The opportunity of creative freedom, and to shine a light on the collaborative process, was embraced entirely by Bell & Swift and we support the drive to bring these innovative ideas to life wherever possible.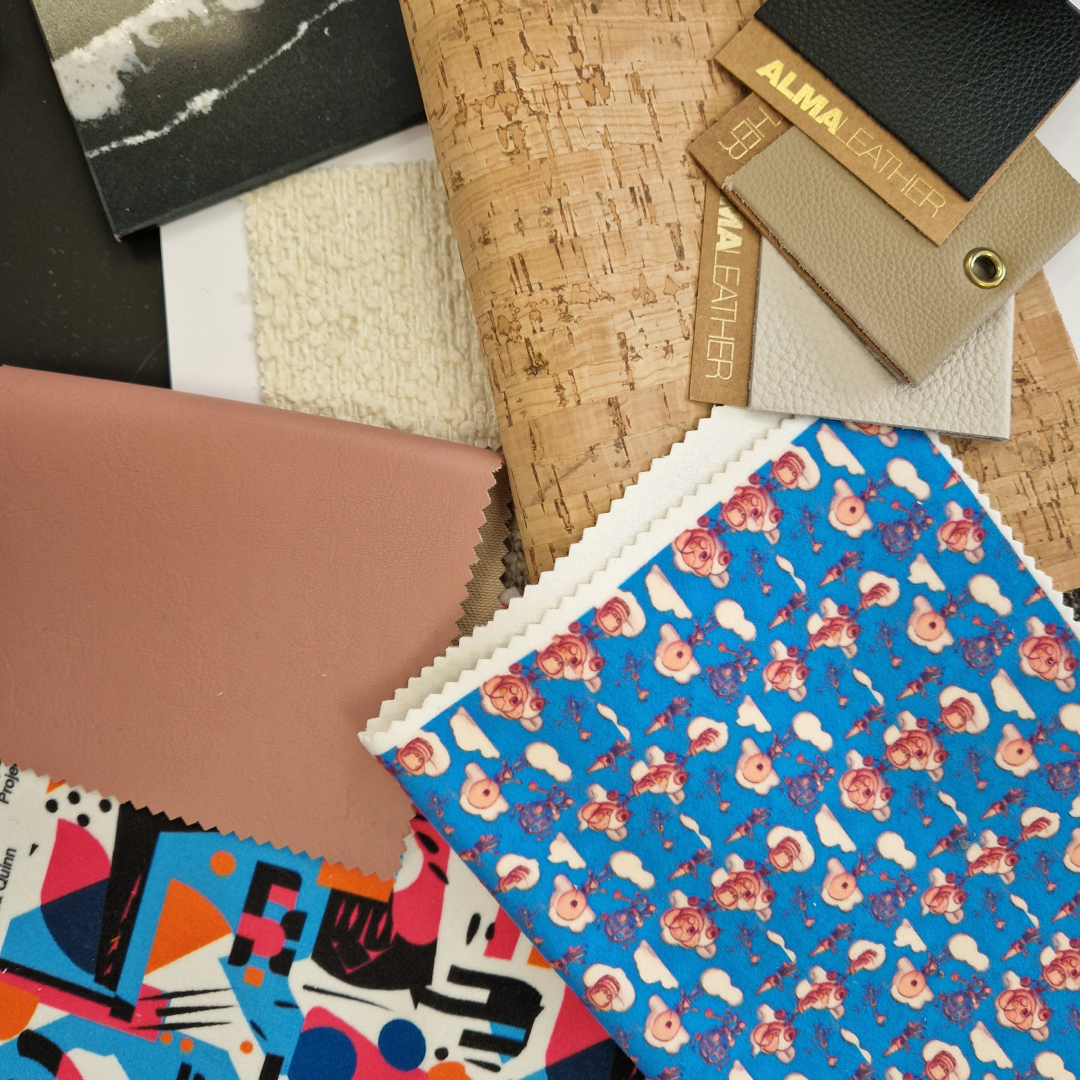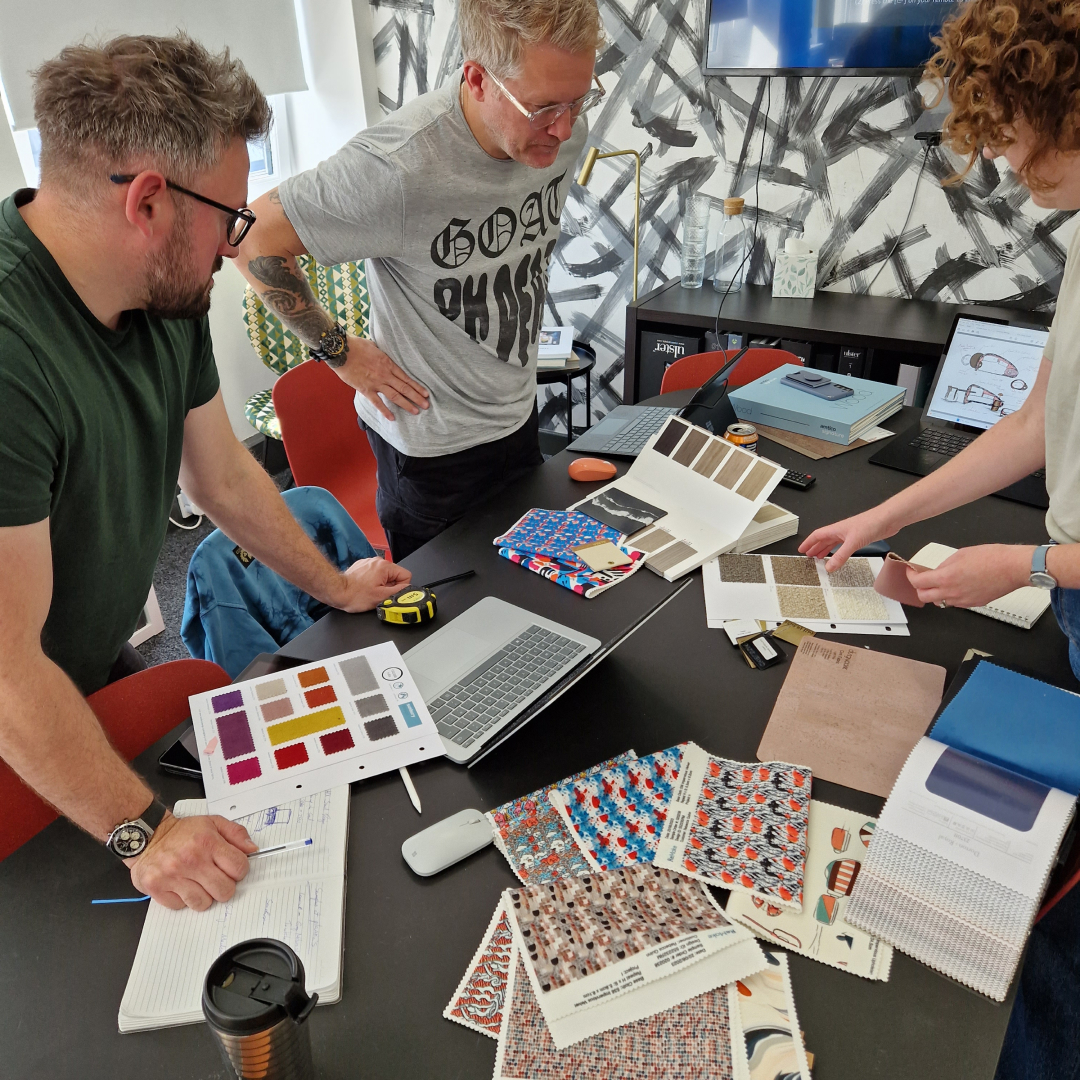 A hotel lobby is a great spot for standout furniture - setting the scene, building the brand and making guests welcome from the moment they arrive. Bell & Swift's bespoke sofa is designed to incorporate everything a threesome ('you, me and Ai' - the robot dog) would need to work, recharge, and relax. We really feel that this piece encapsulates everything it means to create, curate & collaborate. A combination of the curved tubular frame, desk and integrated table really pushed us to see what we could create – and the process has been a really rewarding experience for us. It also features a Polygood® tabletop - a high quality, sustainable surface material, made from 100% recycled and 100% recyclable plastic.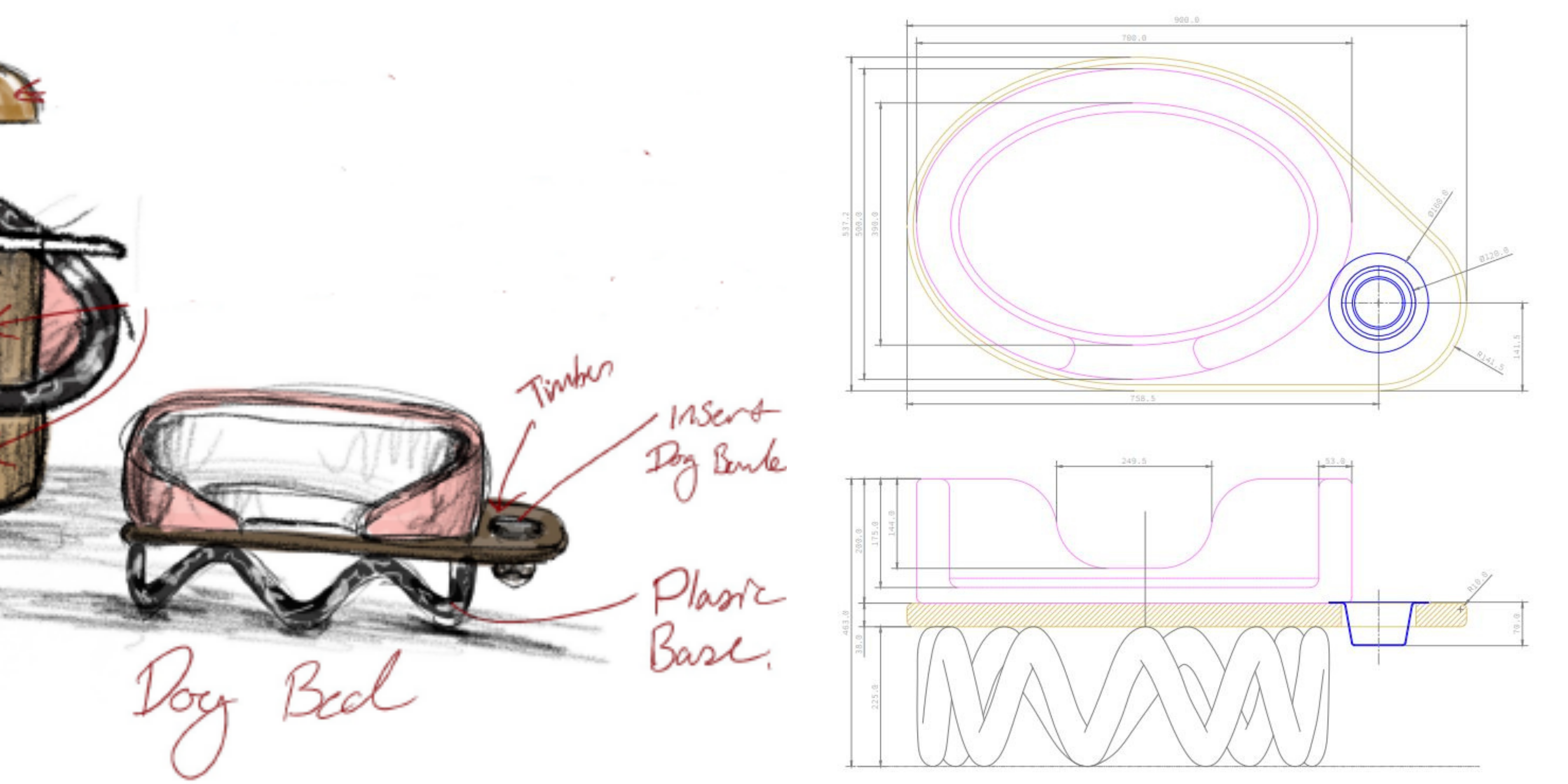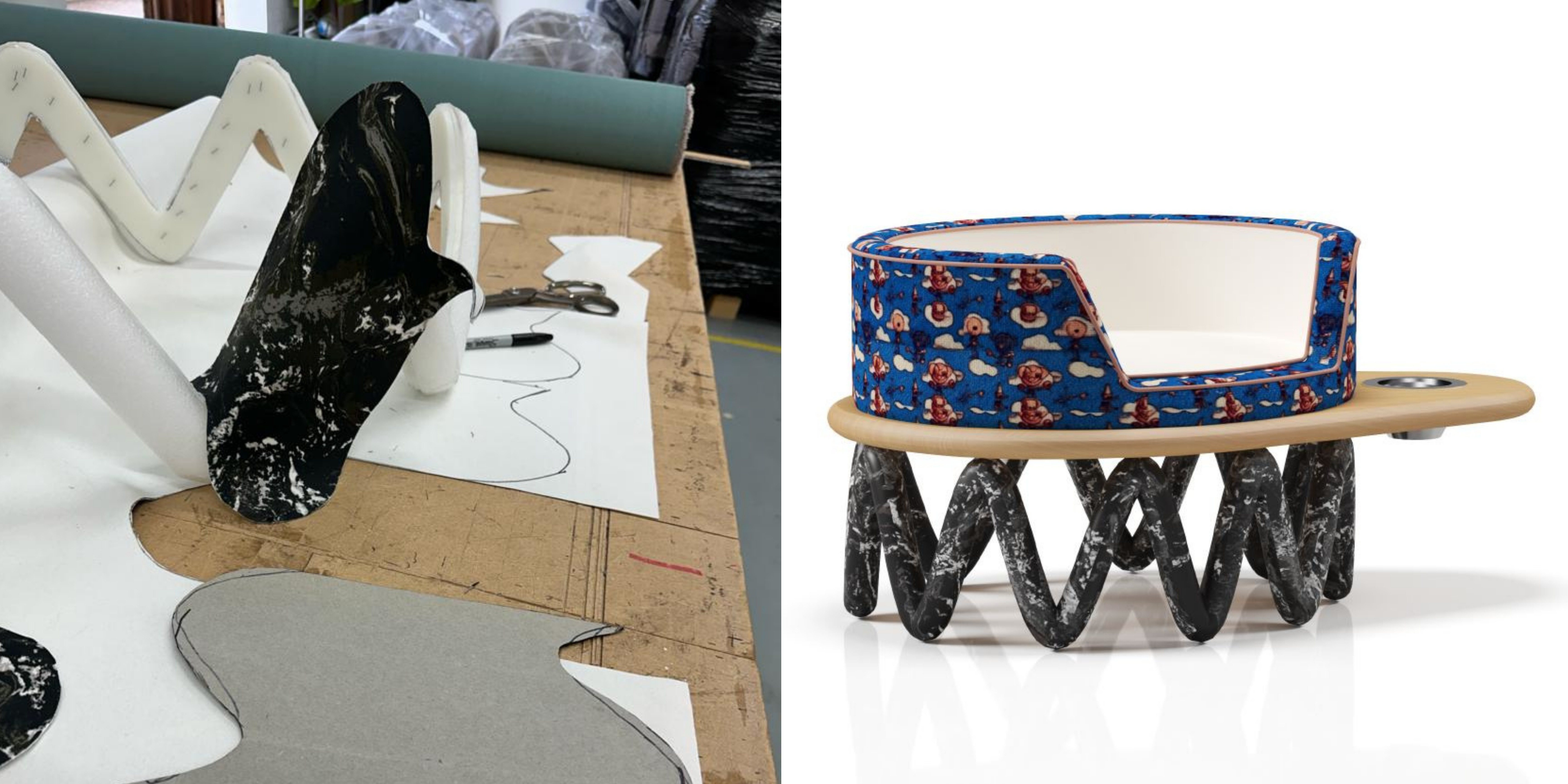 The swooping curves and organic form of the sofa are echoed in the dog bed which sits neatly alongside, as are the bold, bright prints of the AI-generated bespoke fabric design. Again, this curved, tubular base took real resilience and creativity, but we were determined to bring the idea from Bell & Swift's moodboard, to reality.
We were keen to see how Bell & Swift made use of AI to generate the fabric design and dog bed - the team told us that it was a fun way to work, with some fairly off-the-wall designs thrown up as part of the process! This is a new kind of creative collaboration - figuring out which prompts to use, how to refine the results and narrow down the options.
The key phrases used for the dog bed were: dreams, bones, clouds, coral, happy, fun, detail, robot dog, cartoon, bright, rabbits - everything a robot dog would need for a happy stay at a future-facing hotel.
When it came to the sofas fabric design, Bell & Swift used different prompts for the AI tool and requested a design inspired by the urban landscape of future cities, with key phrases urban, vibrant, friendly, graphic, structural, architectural, fun, city living and bold.
Our Moose armchair and bespoke mirrored screen make up the final elements of the Bell & Swift design. This charming armchair is upholstered in Sanderson Dorton Sapphire - a durable but luxurious deep blue velvet that works so well in a busy hotel lobby. These pieces compliment the bespoke sofa and dog bed, giving a cohesive look to their design. It's clear that the team have really thought about how the space could be used, and have chosen colours, fabrics and finishes that work perfectly against the powder pink backdrop of the stand.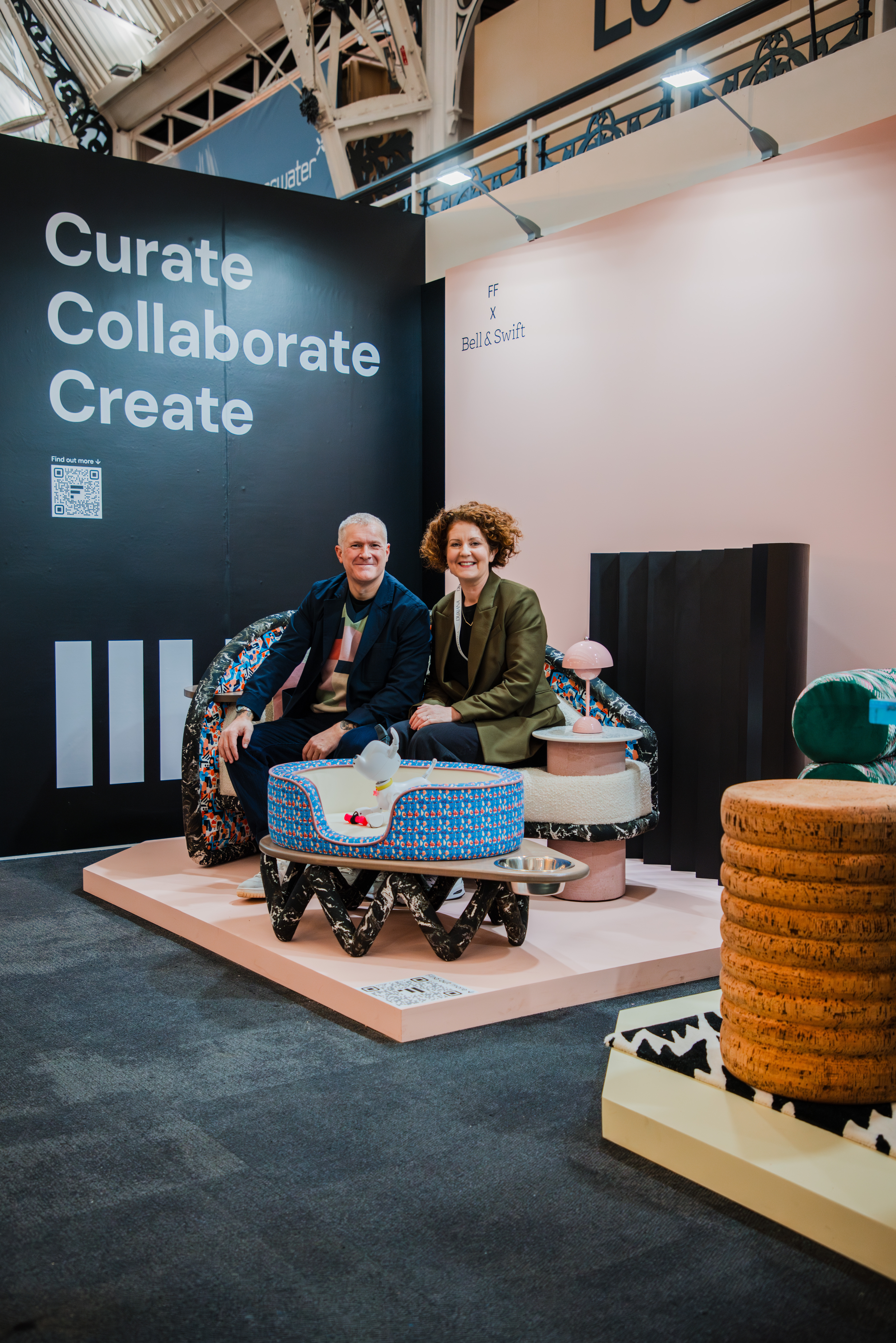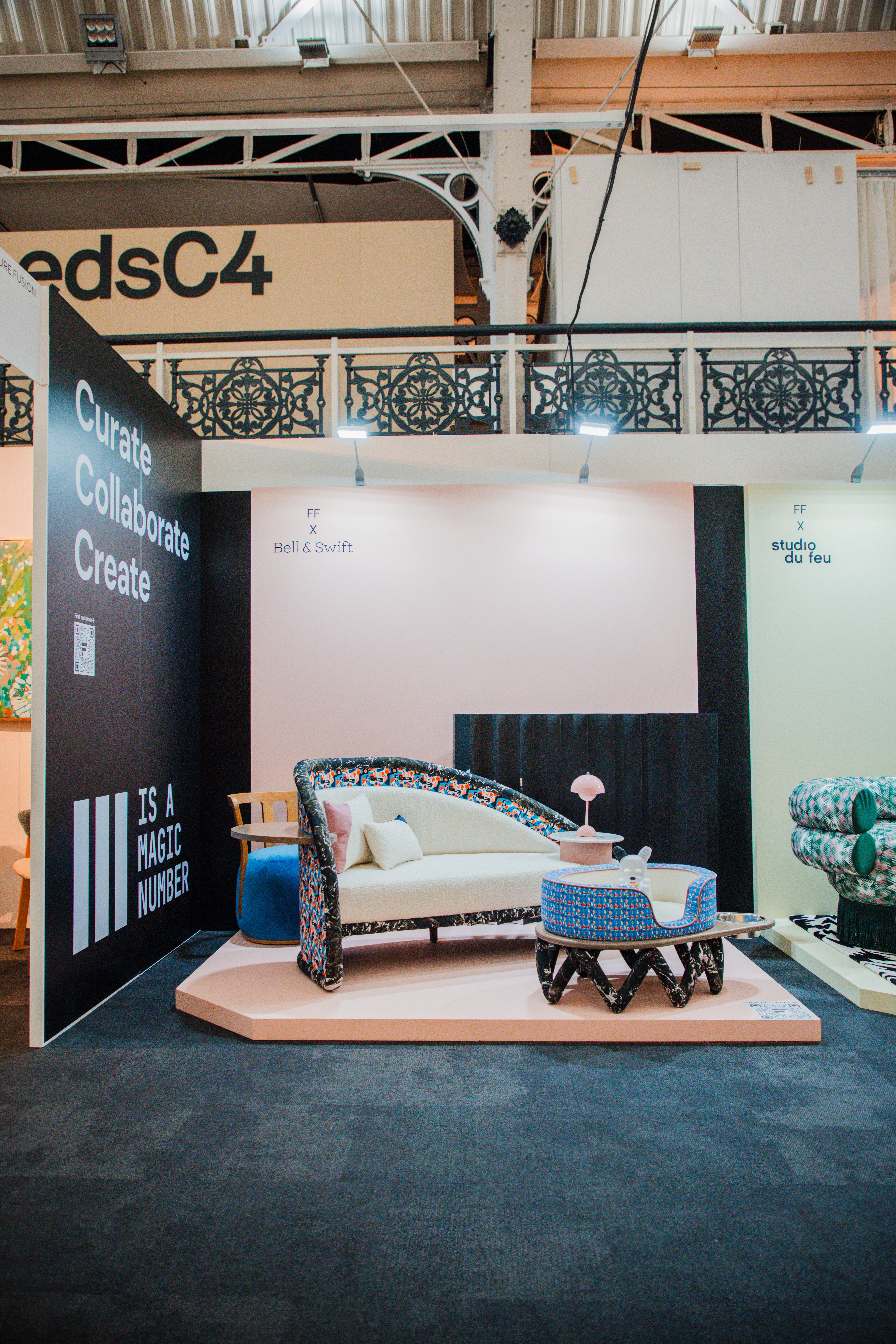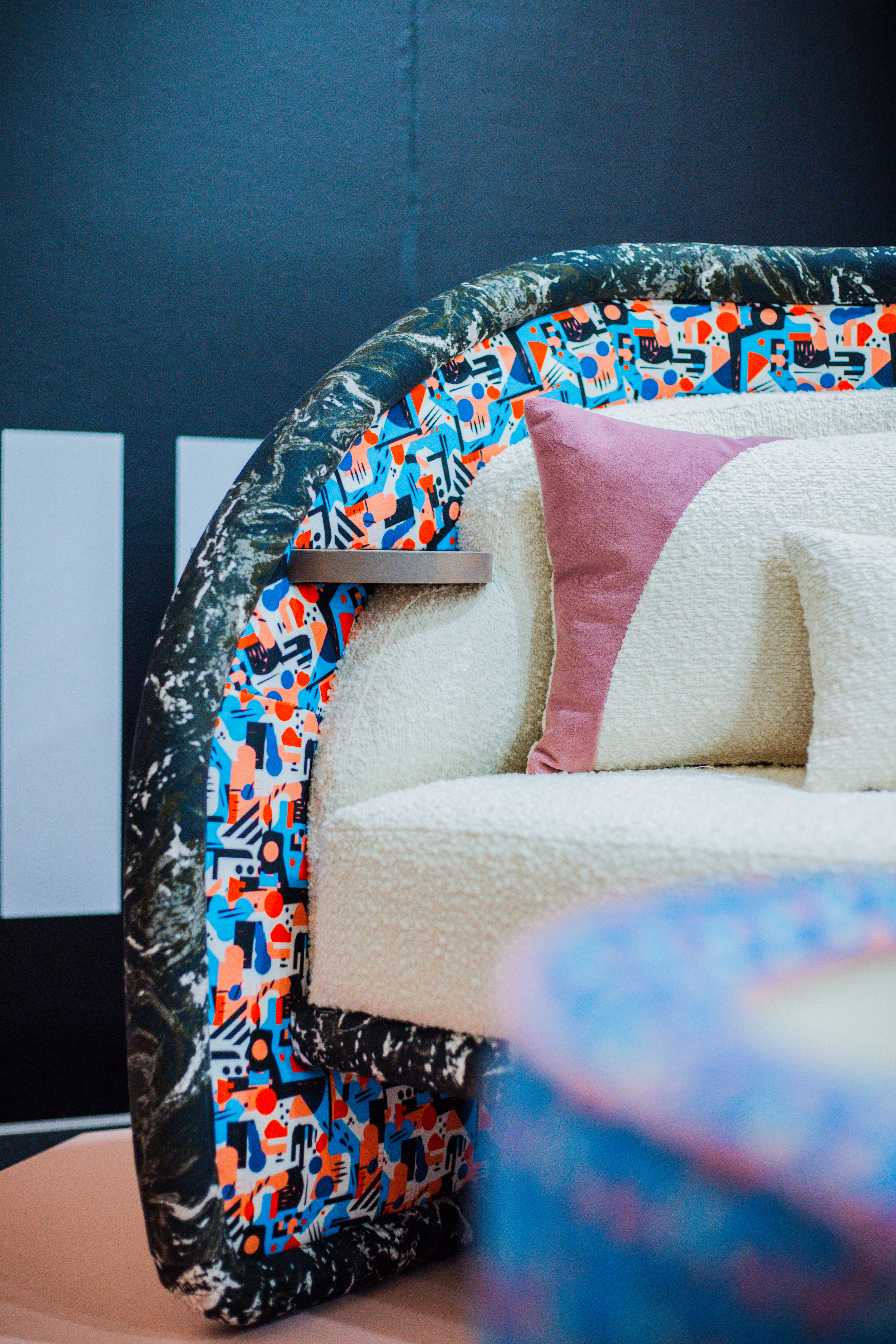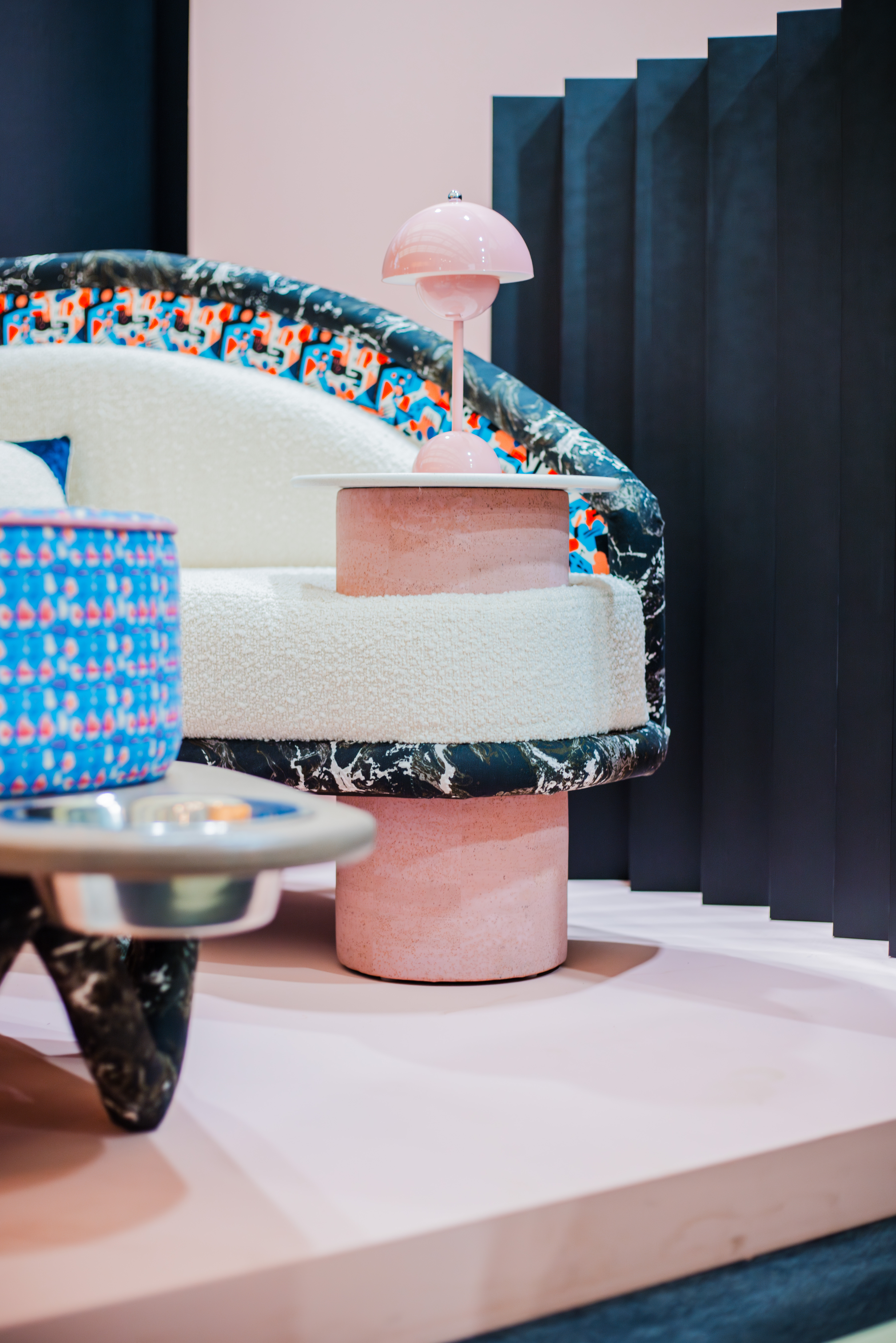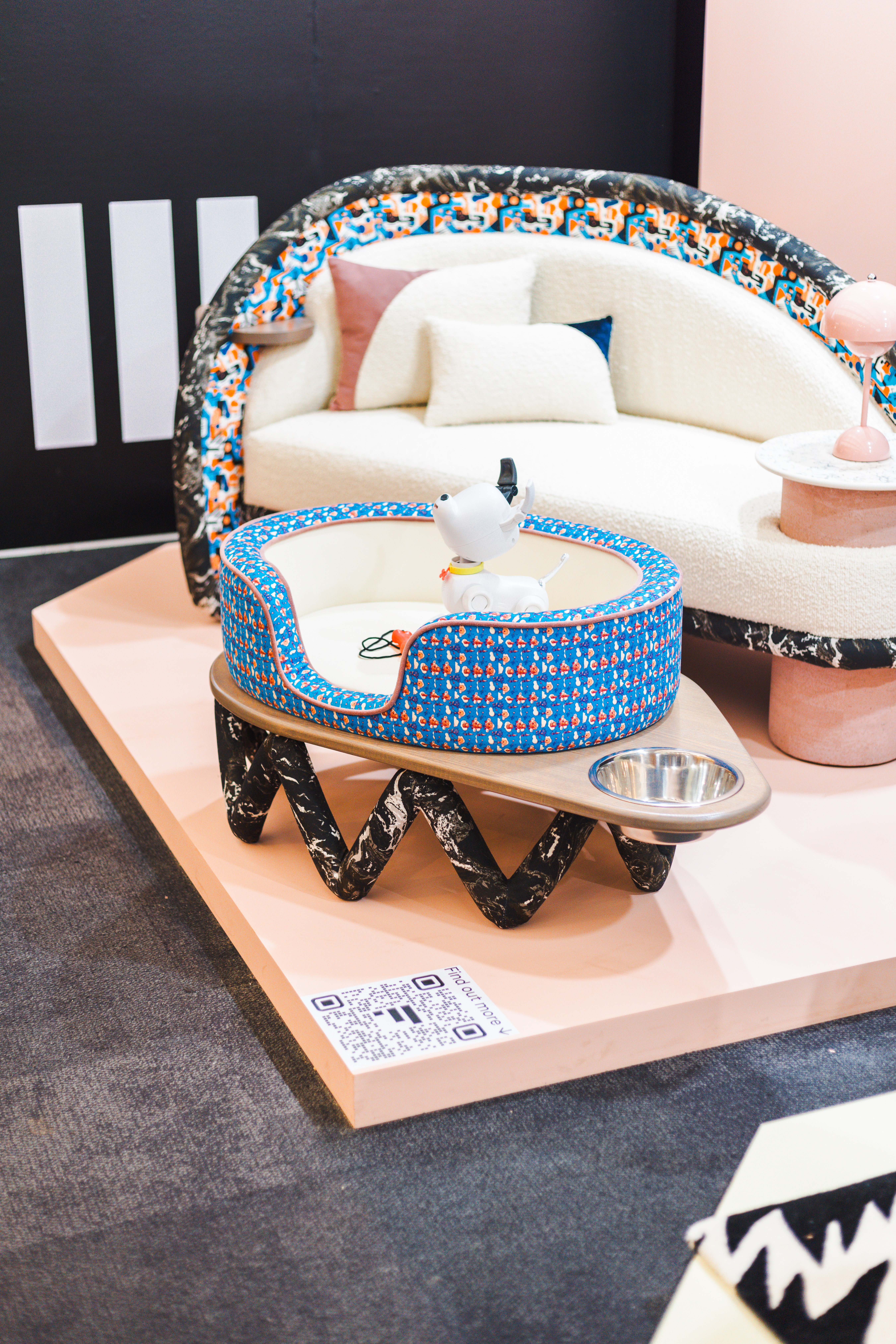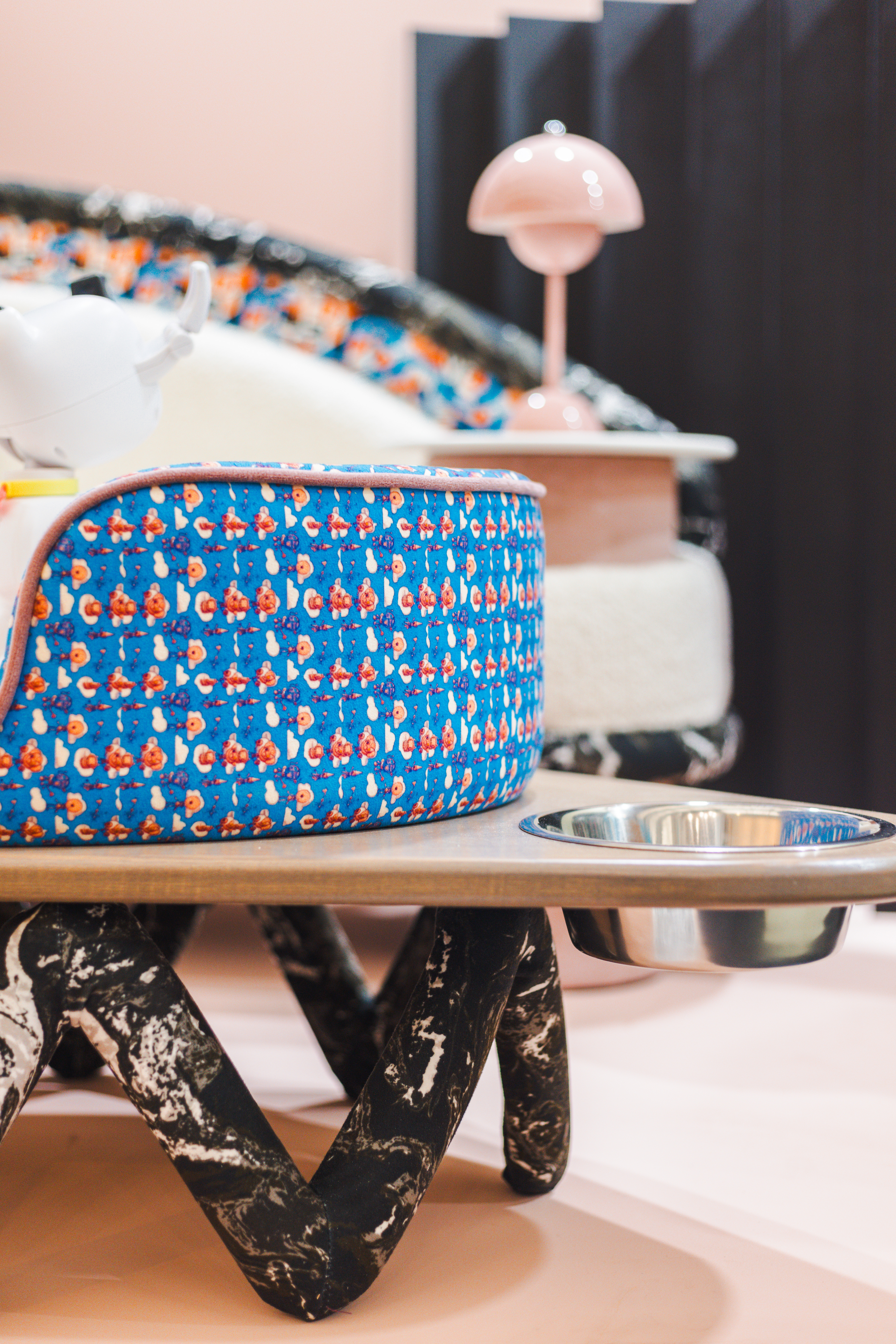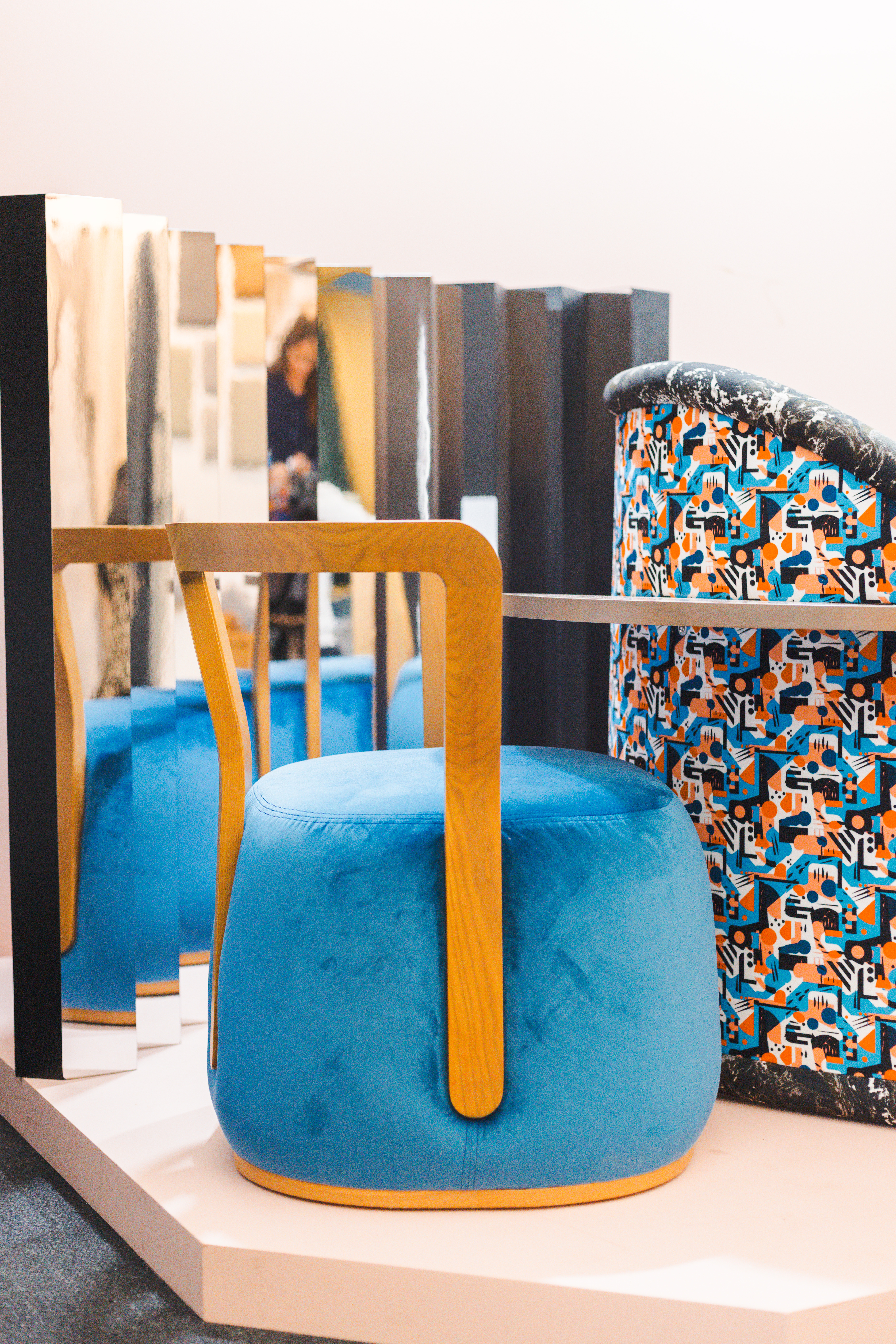 FURNITURE FUSION X BELL AND SWIFT
Collaboration Brought to Life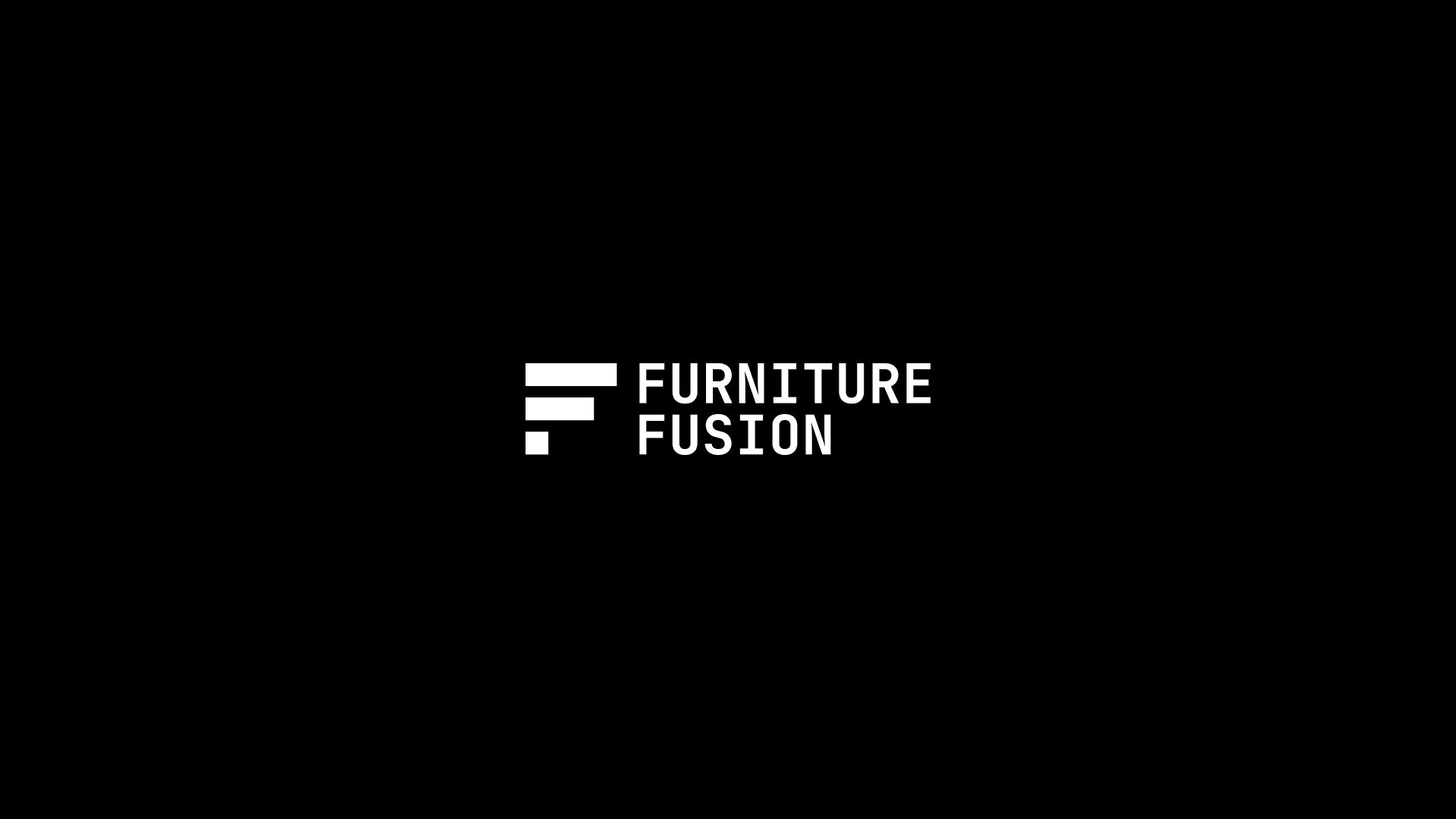 ---