Famous Finds
Taking a look inside some of our favourite celebrity homes.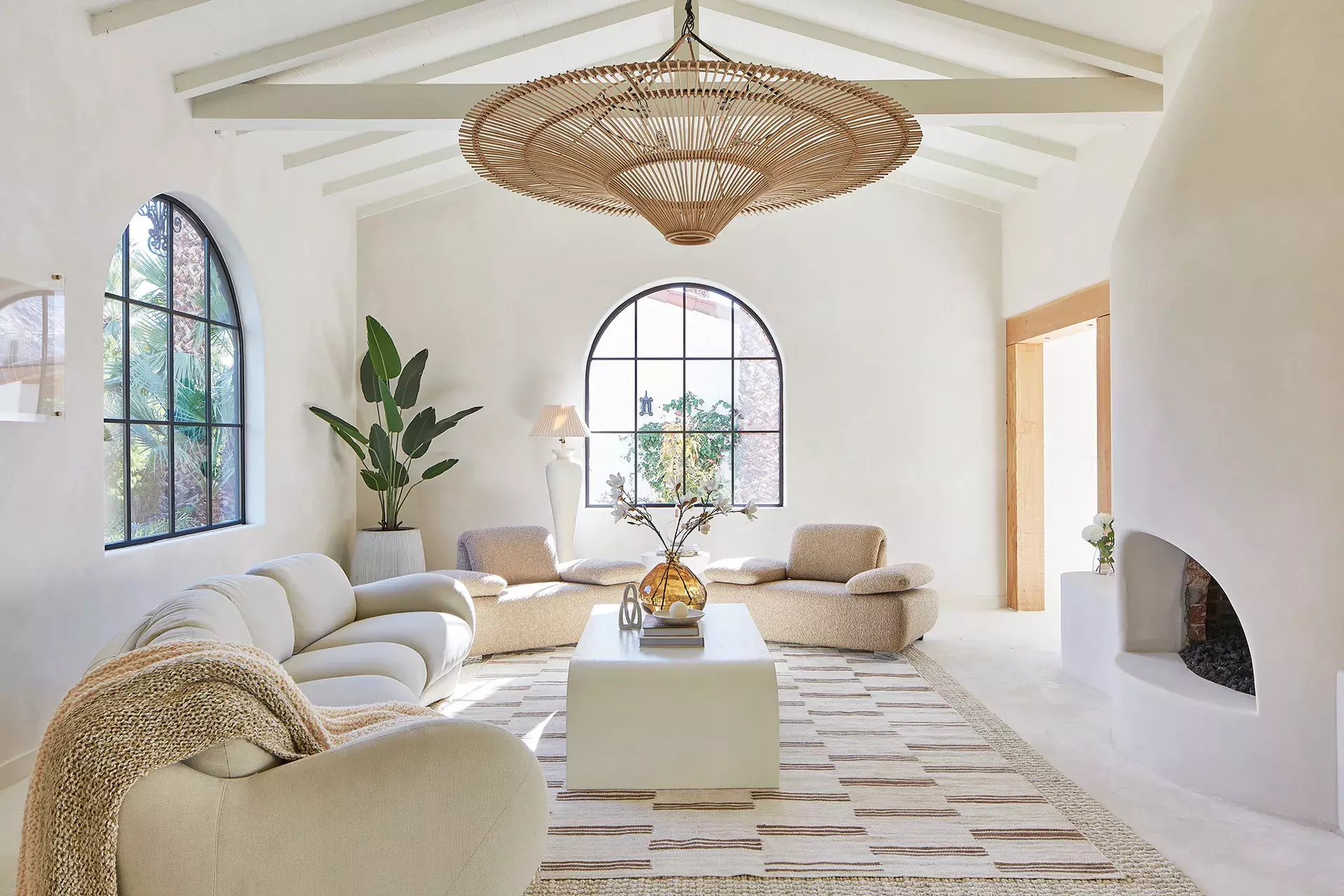 Working with designers every day means we're immersed in hotel, restaurant and bar interiors. Although we're focused on the furniture, we love seeing how our collection works as part of the overall look, and we love seeing what's new in interior design, whether commercial or residential projects. So one of our team's most bookmarked sites is Architectural Digest - in particular their exclusive tours of celebrity homes.
There's a chance for a glance in to Cher's Malibu home, or the great Tina Turner's South of France hideaway, but when Architectural Digest went inside Lily Allen and David Harbour's Brooklyn townhouse, we were all over it.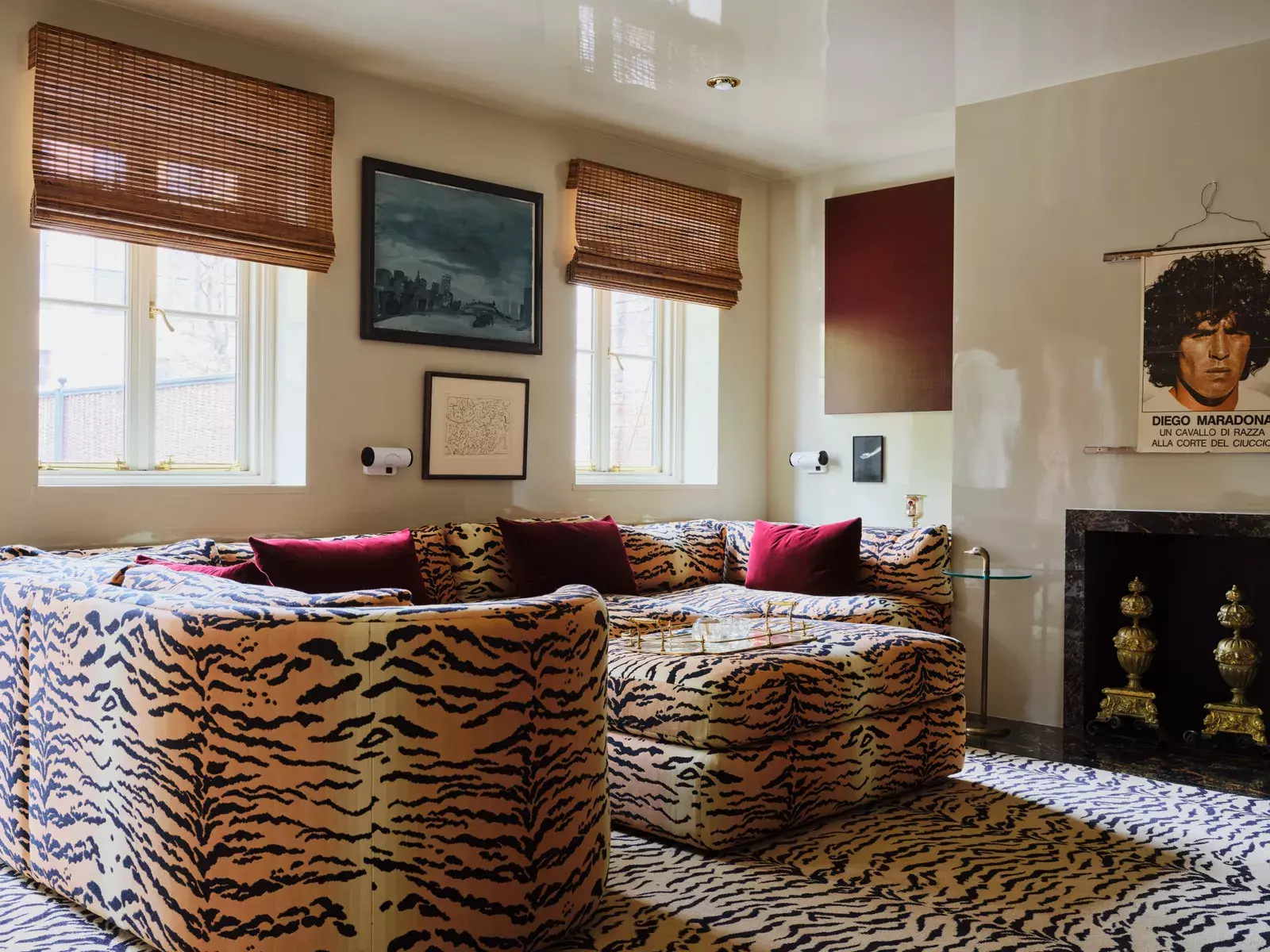 As you might expect from the singer and her Stranger Things actor husband, it's bold, beautiful and dazzlingly creative. With a brief to deliver a design that looked "as if they'd inherited the home from a kooky Italian nonna with fabulous taste", the end result is the antithesis of good taste greige.
There's chintz, velvet, crystal chandeliers, tiger-patterned textiles and Pierre Frey patterned carpet in the bath/sitting room. It's not for everybody but it's pretty special and there's so much that we love.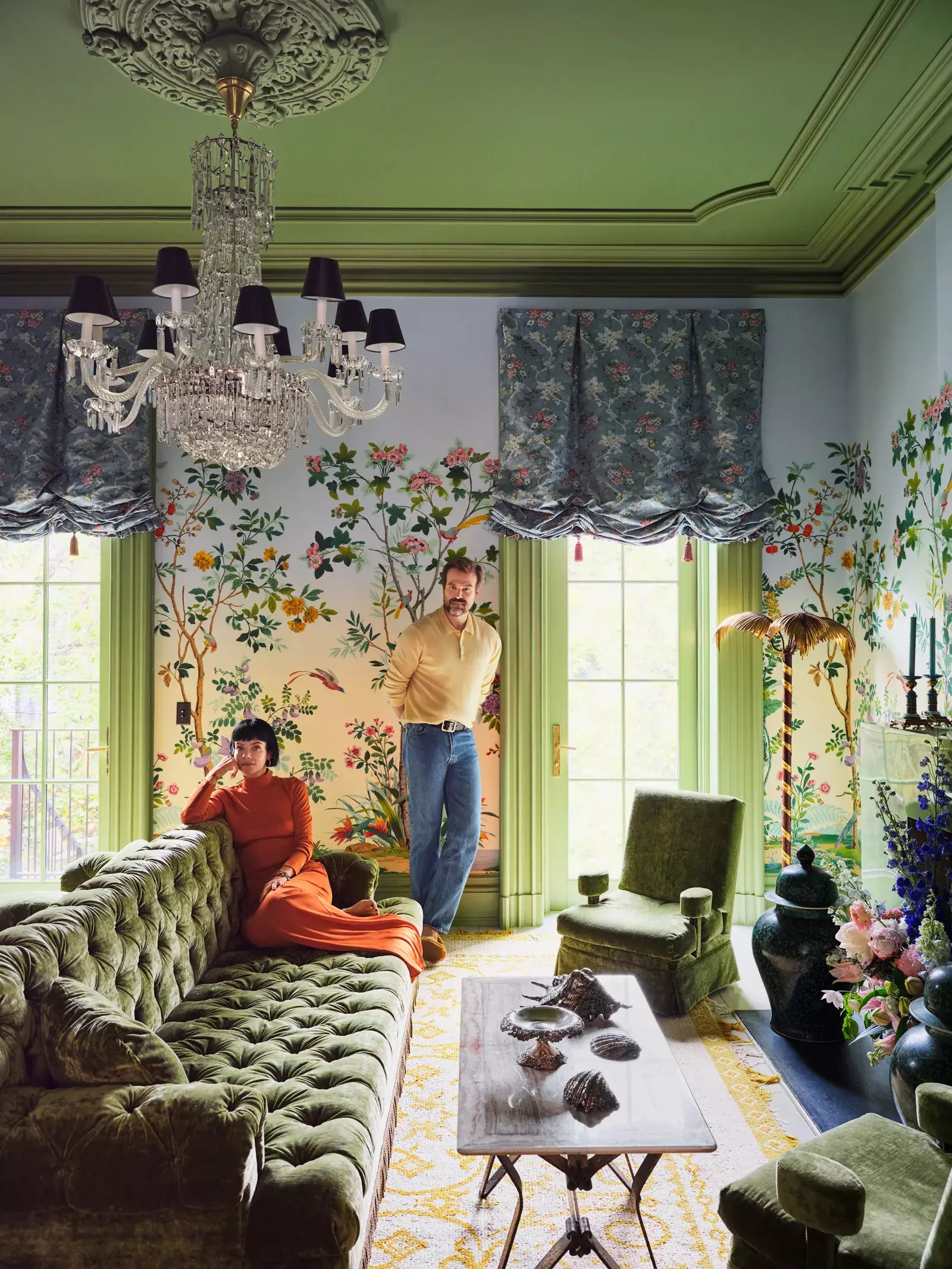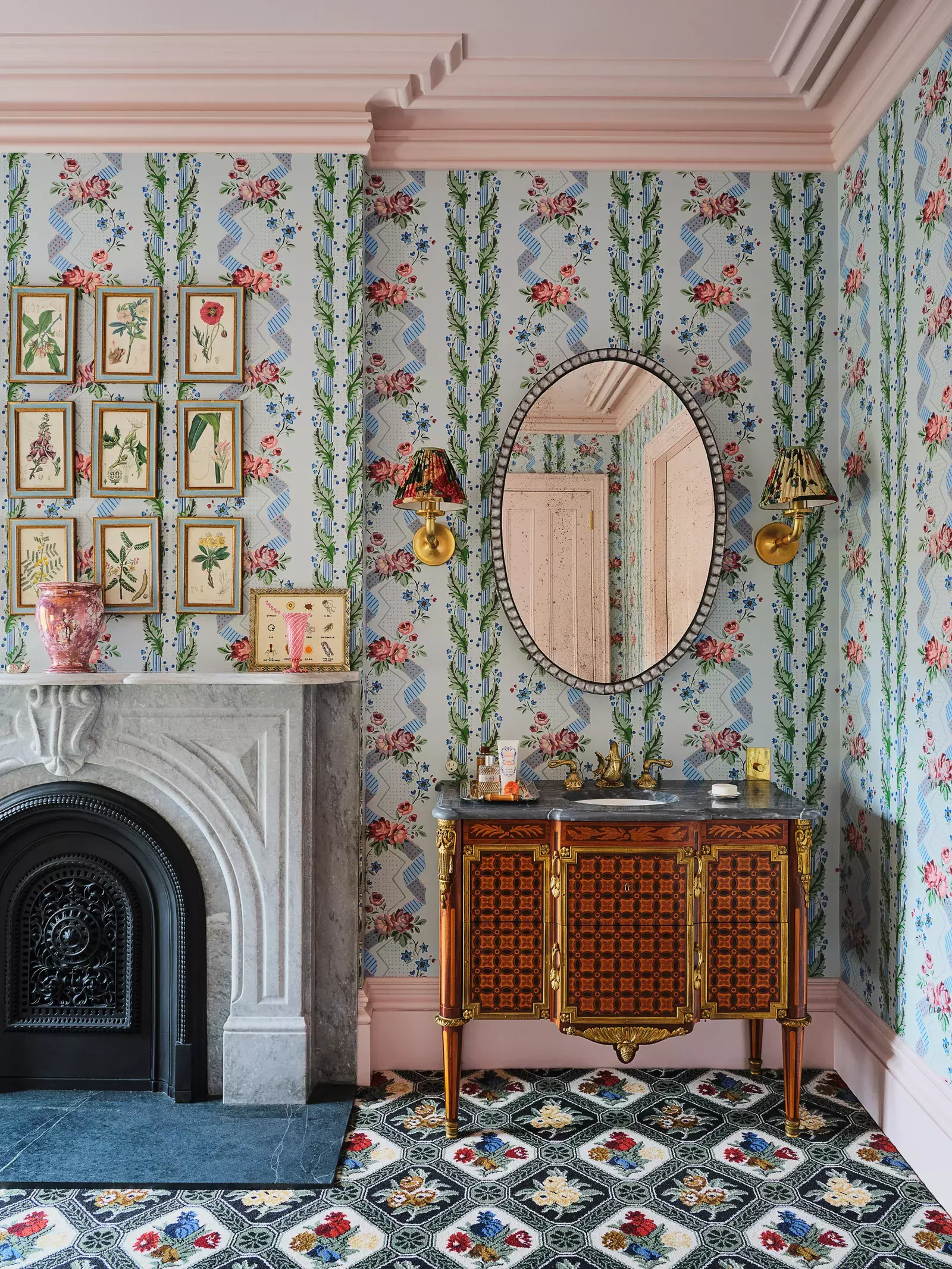 Sticking with the world of music, we couldn't resist a peek by Matt Sorum's super-cool mid-century villa in Palm Springs. The Guns N' Roses drummer and his fashion designer wife, Alice Harper, have created a family home that whispers, rather than screams, rockstar.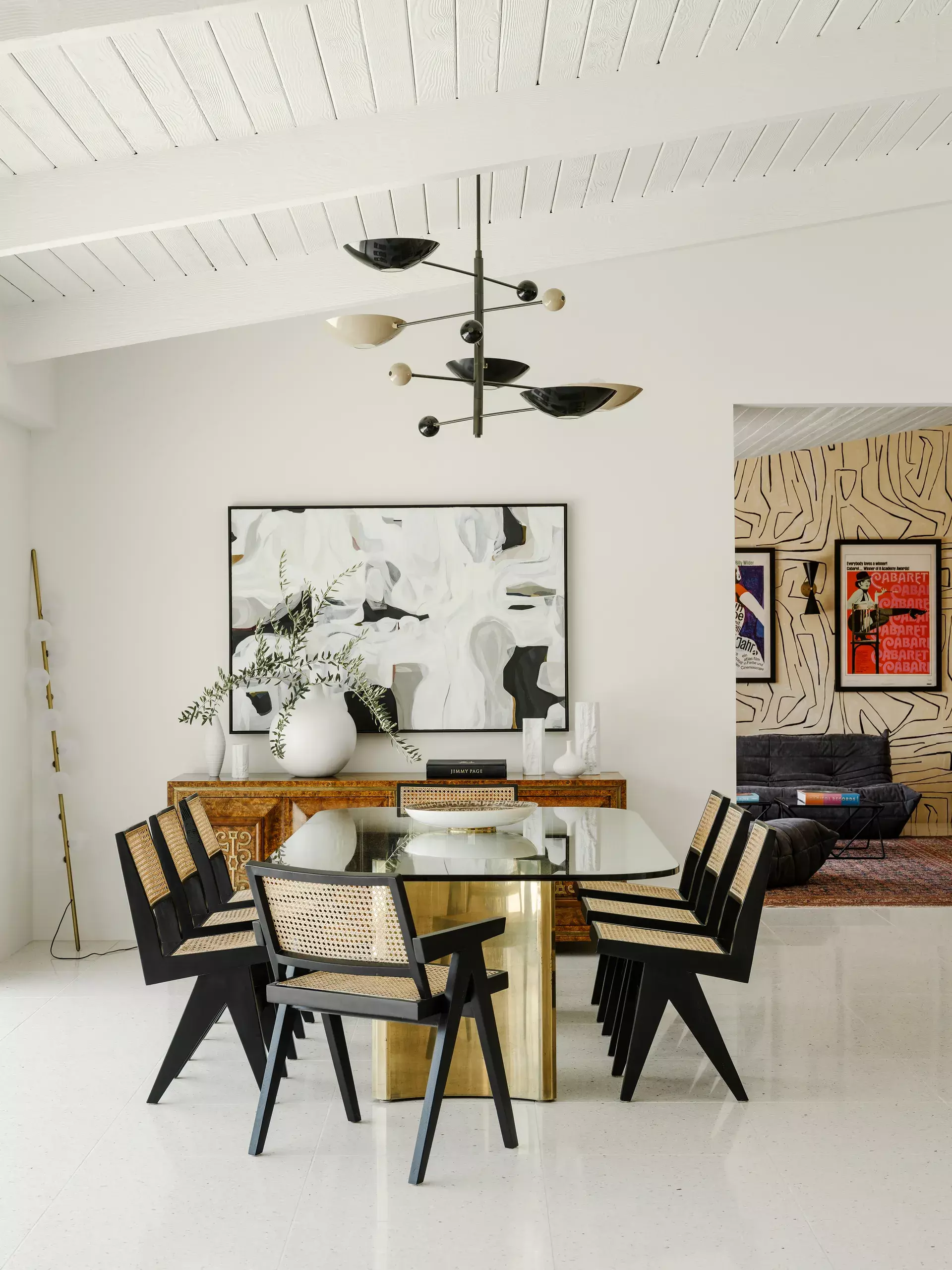 The villa has an airy, relaxed feel, with a cool vintage edge to bring a bit of spark to this desert retreat.
We can't quite match the location but we've taken a spin through our collection to find some pieces which echo a few of the key pieces in Sorum & Harper's home.
Our Genova lounge chair brings mid century style and is available in leather or fabric upholstery with wooden or metal base.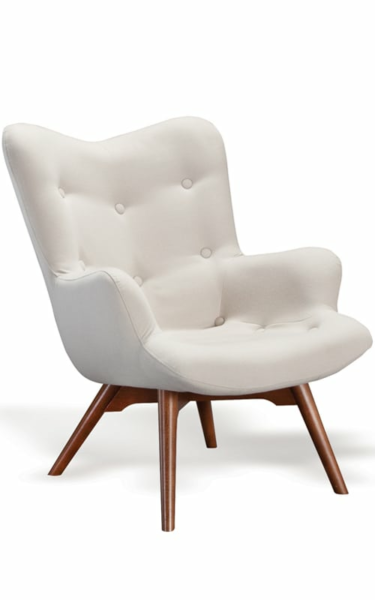 Dorothea is a dupe for Sorum's dining chairs - available as an armchair or side chair, it's made of solid ash wood and upholstered in a double layer of leather, with iconic rattan cane woven back.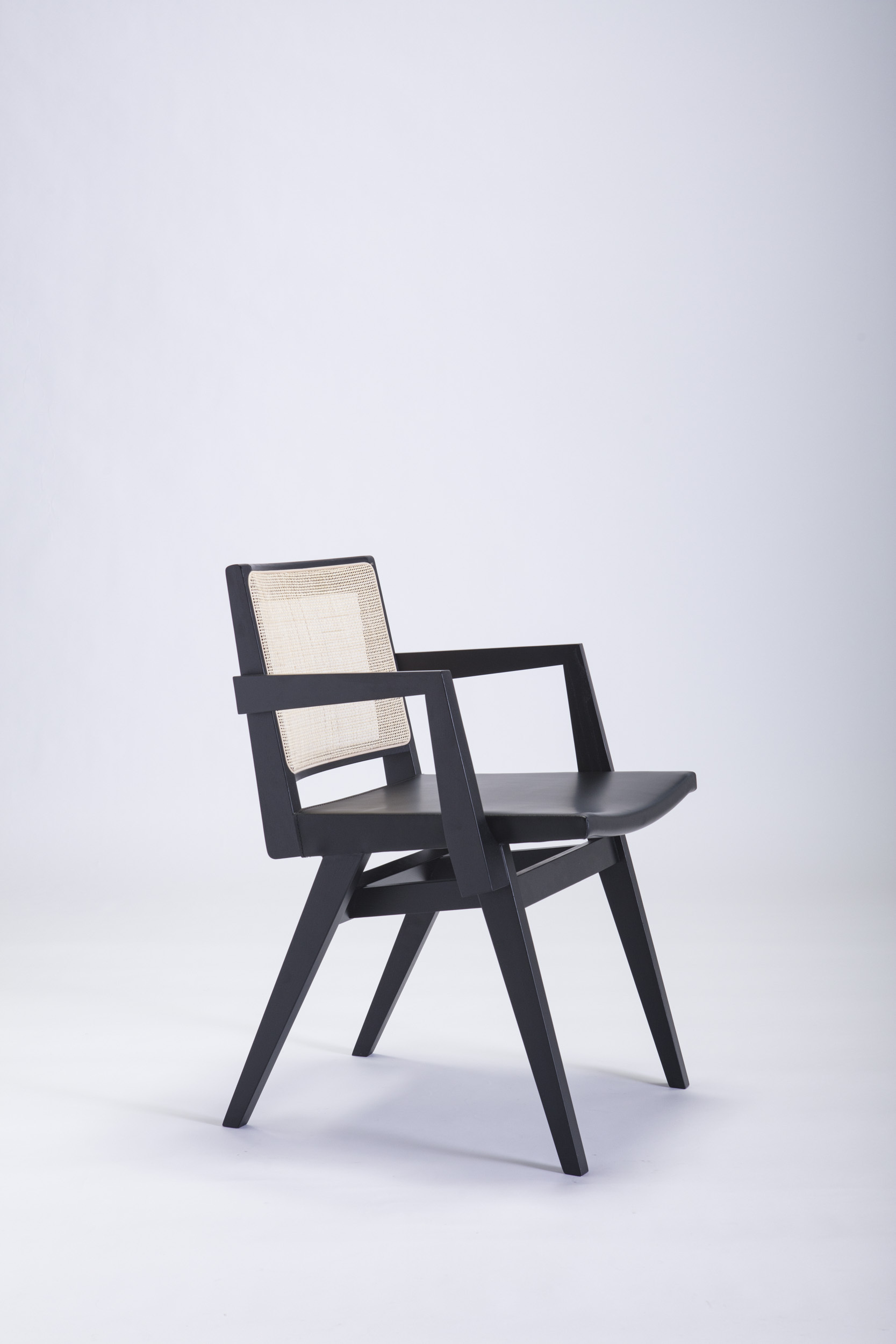 It looks like Sorum shares similar taste to model/actress Molly Sims - she and her husband, Netflix executive Scott Stuber, have built a modern twist on a classic shingle-style home. With lots of natural wood and vast white marble surfaces, the home sticks to a neutral colour palette, with interest added through texture and fabrics, including leather-upholstered high stools and those woven dining chairs.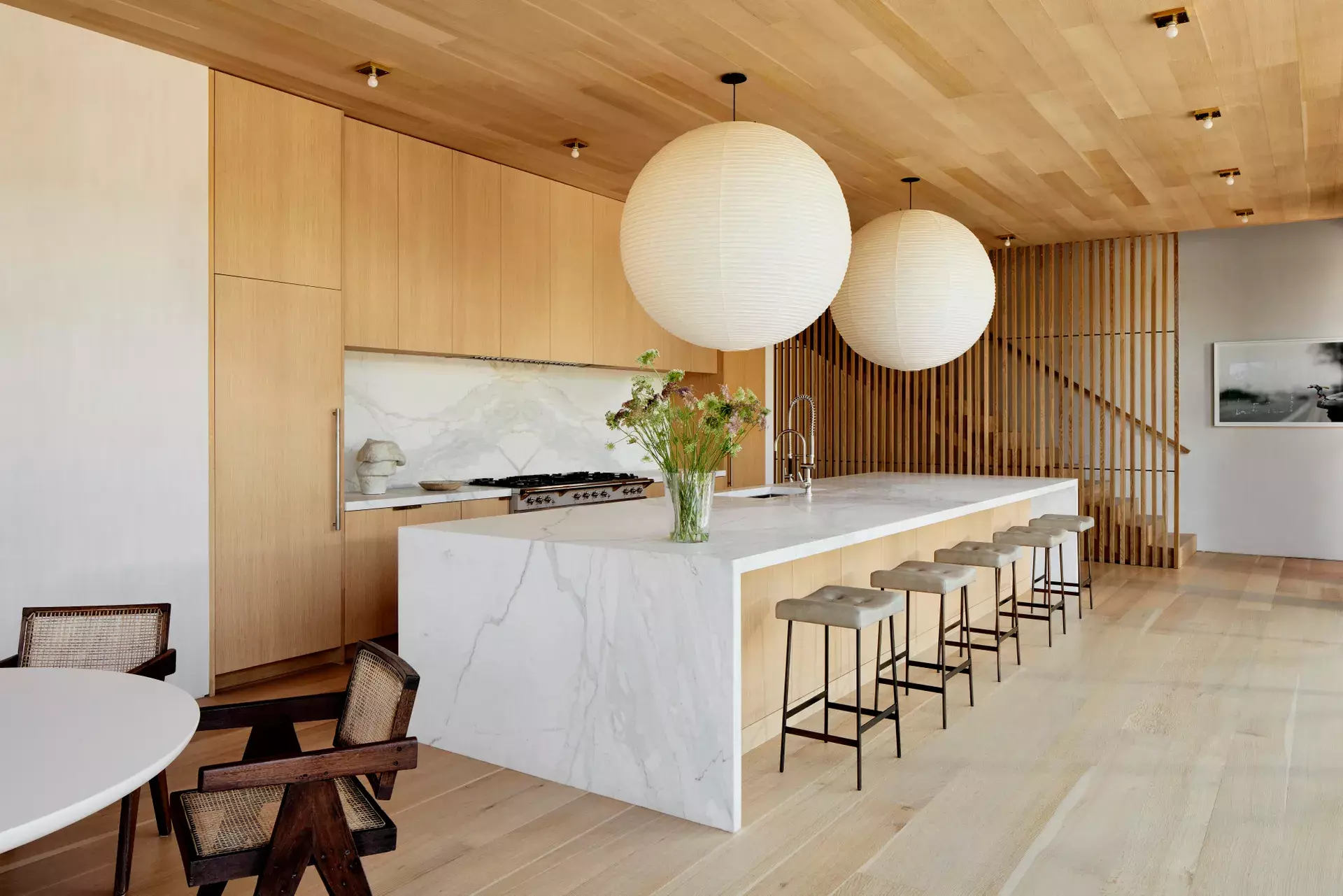 The straight lines of timber and geometric precision of the kitchen and sleek bar area are a contrast to an oversized curved sofa. Upholstered in tactile mink velvet, it's a statement piece that will seat a crowd in style - get the look with our Lofer sofa.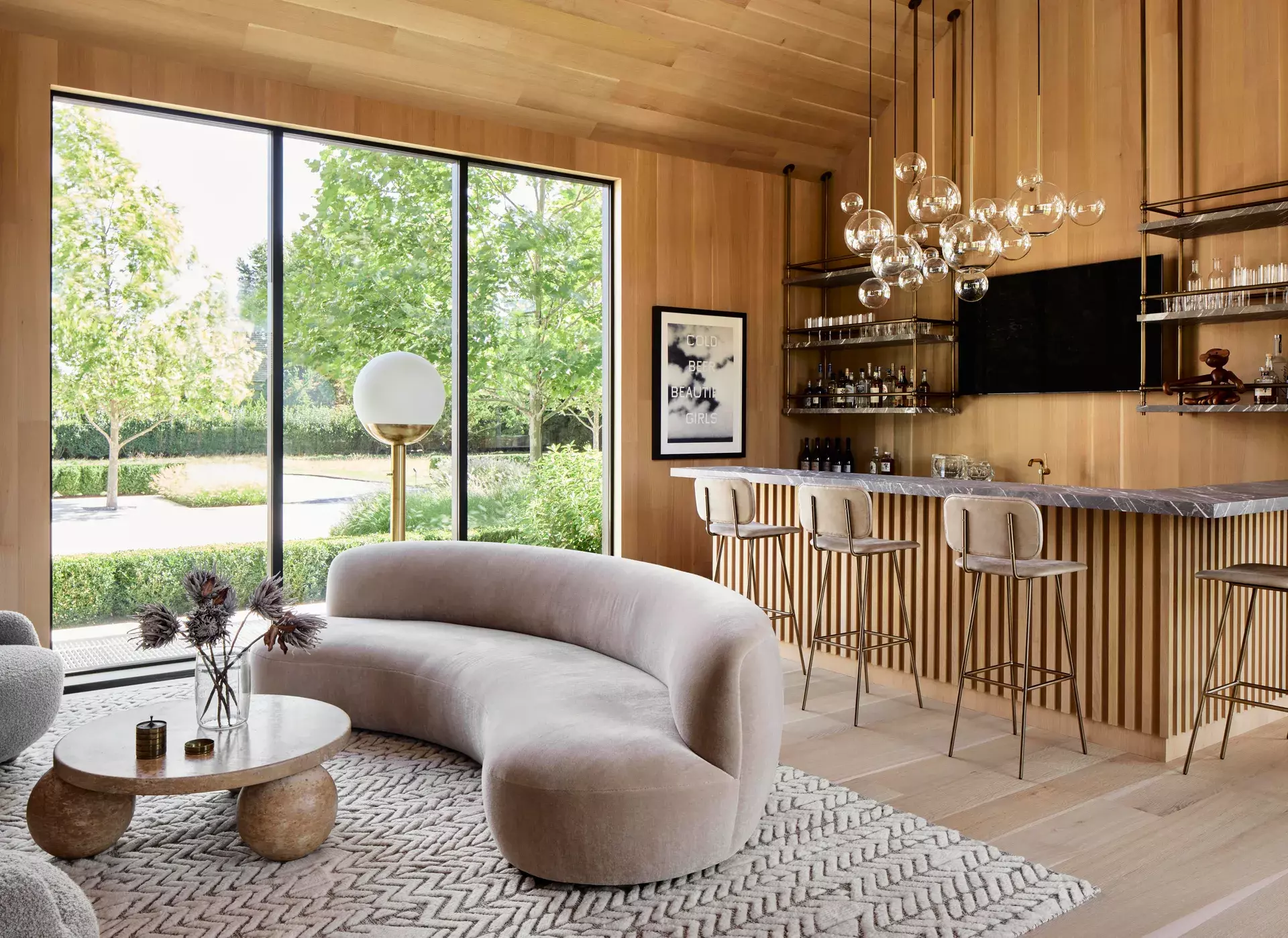 It's a nod to the curved trend that was so popular at both Milan Furniture Fair and Clerkenwell Design Week this year. Expect to see a lot more like this - it's a great way to add interest to an interior and with many pieces part of modular collections, it's easy to find something to suit any space.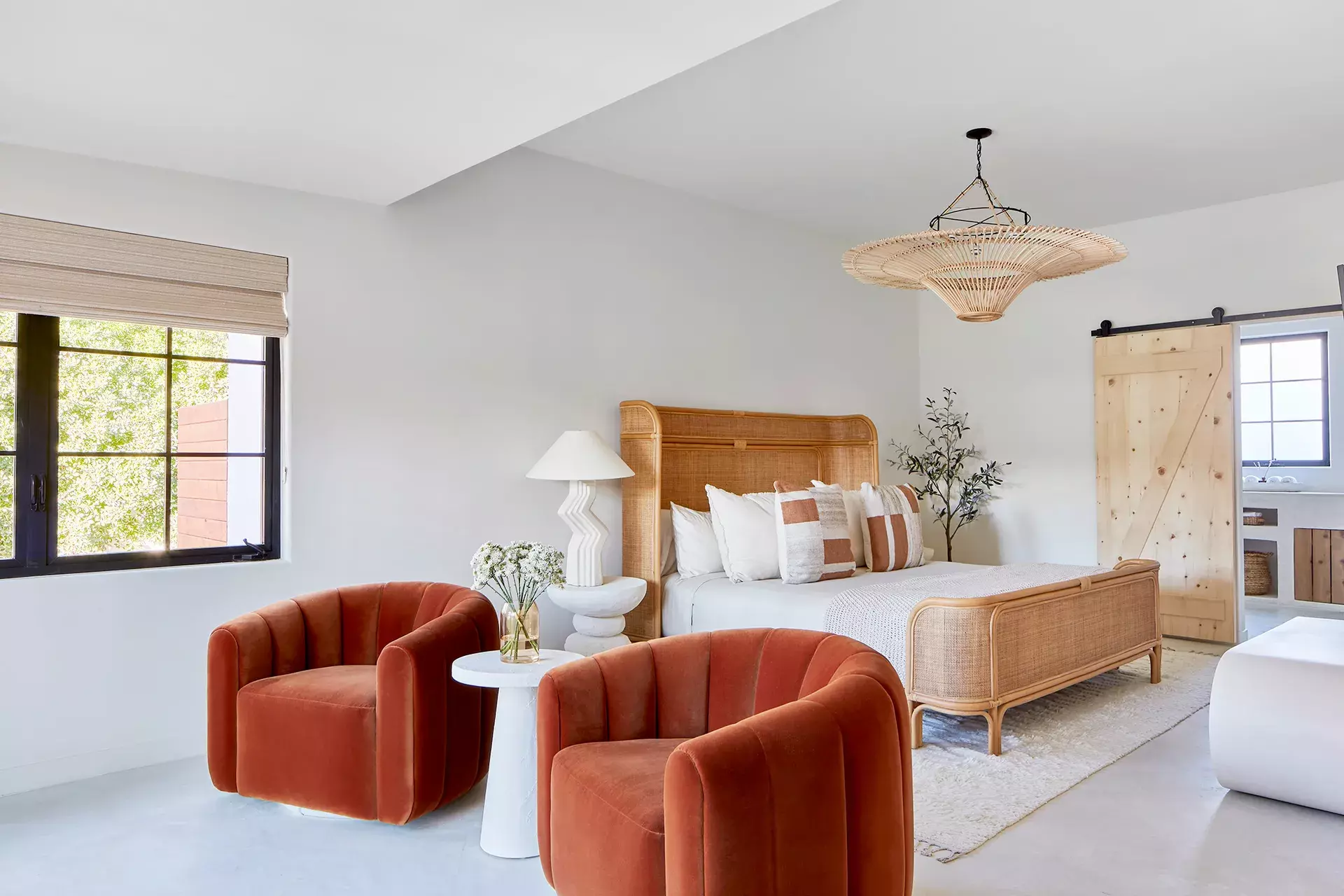 Jensen Button has also opted for curves in his Palm Springs holiday home - we love these statement lounge chairs in their light and airy bedroom. Burnt orange velvet looks fantastic against the bleached timber and natural rattan - a perfect spot for sundowners in style.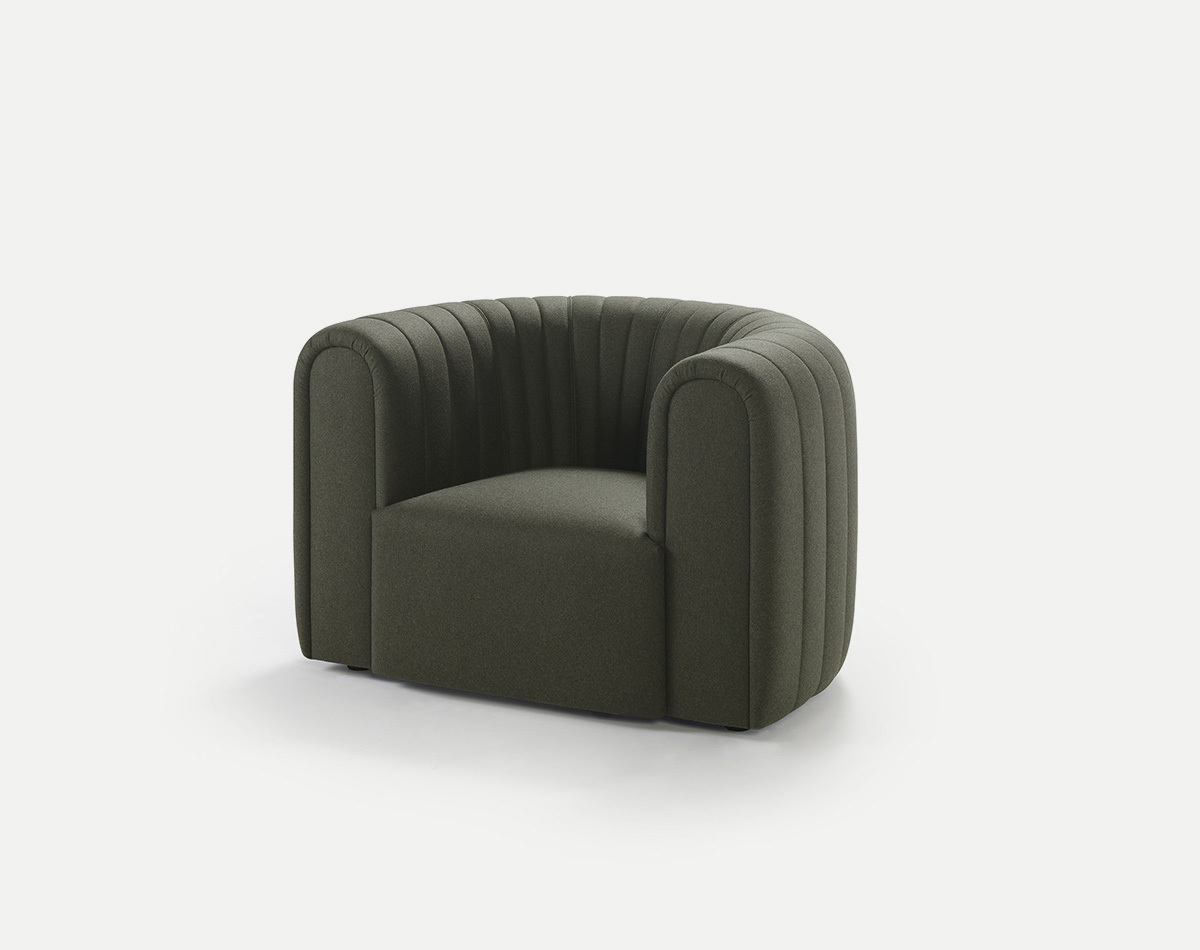 Get the same look with our Core lounge chair - ideal for any contemporary commercial interior including hotel lobbies, lounges and relaxed dining spaces.
Meanwhile, someone you might expect to find in an LA mansion with infinity pool, or a penthouse apartment full of glass and marble actually lives in a charming brick-built house in Primrose Hill.
Singer Rita Ora understands why people might be confused. In a recent Architectural Digest article, she said, "My exterior self is super flamboyant, colourful, and I'm really proud of the decisions I make. Internally, my interior self is the opposite. I wanted my inner self reflected in my home."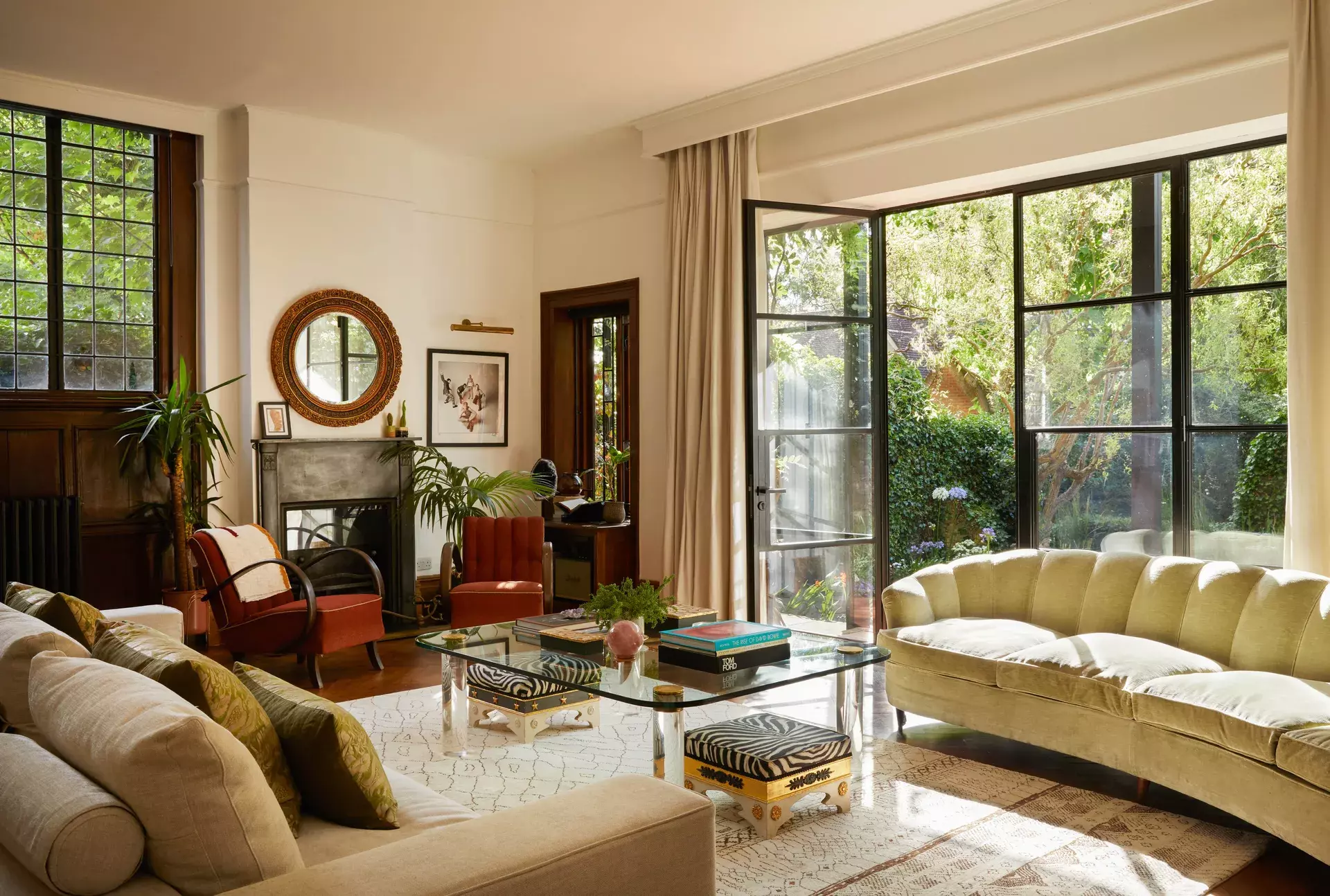 It's a calm, grounding space, with leaded windows, warm wood and lots of light, opening onto a beautiful garden complete with weeping willow tree.
The house is full of vintage finds and covetable art - the dining room is home to Damian Hirst's dotted skateboard decks and a Gilbert & George painting. There's glamour from cut-glass chandeliers and Fortuny silk cushions, while wood and woven cane dining chairs echo the Arts & Crafts era in which the house was built.
We love the mix of antiques with contemporary design details and furniture - we've spotted a couple of pieces in our own collection which we think would feel right at home in this North London interior.

You'll find many of these brand new pieces in our collection later this year, and we're excited to see them in use in future projects. To keep up to date with our latest collection and new additions to our contract furniture range, join our mailing list and look out for our regular email newsletters, or follow us on Instagram.
---